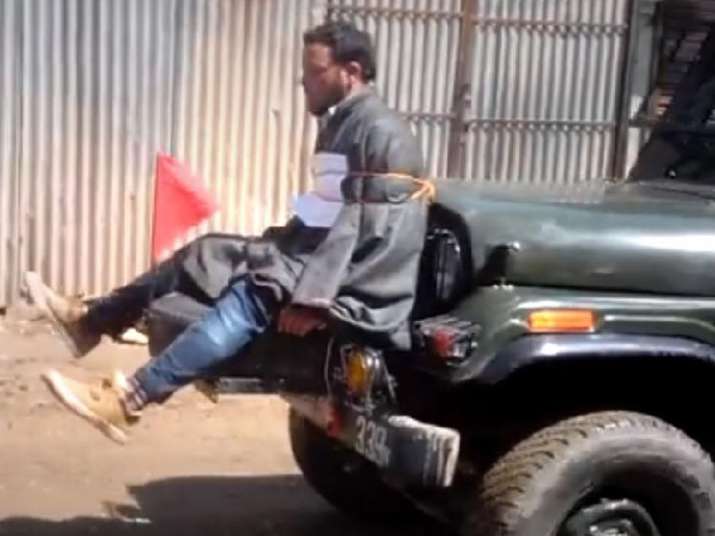 The Jammu and Kashmir government has ordered a probe and state police have registered an FIR against an Army unit in connection with a video showing a man tied to an Army jeep, allegedly as a human shield against stone-pelters in the Valley. 
According to reports, the FIR was registered at the Beerwa police station of Budgam district under sections 342/149/506 and 367 of the Ranbir Penal Code. 
Central Kashmir's DIG Ghulam Hassan Bhat informed that the FIR was registered against the Army's 53 Rashtriya Rifles unit on April 13.
"The investigation is being conducted by the sub-divisional police officer, Magam," Hassan said.
A major row had erupted after a video of a Kashmiri youth tied to the front of an Army jeep went viral last week when former Jammu and Kashmir chief minister Omar Abdullah shared it on twitter.
It is said that the Army had taken this step during an operation to rescue security personnel and government officials on election duty trapped by a stone-pelters mob on April 9 in Budgam district when Srinagar Lok Sabha bypolls were held.
Meanwhile, the Centre has decided to stand by the Army officer who took the decision to use an alleged stone-pelter as a human shield.
Times of India reported that the Centre has taken note of the incident and also of the probe by Army which concluded that the commanding officer took the decision reluctantly.
It said that the officer took this 'controversial' decision after he realised that his unit had to pass through streets crowded with a mob of stone-pelters.
The government has appreciated that move and maintained that the decision was taken in an 'extraordinary' situation. Defence Minister Arun Jaitley is likely to address the issue when he meets Army commanders today. 
On the other hand, the Army is of the view that the incident was unavoidable as the unit was surrounded by stone-pelters. 
The trapped personnel included about a dozen Jammu and Kashmir government staff, 9-10 ITBP jawans, a couple of constables from J&K police and a bus driver.