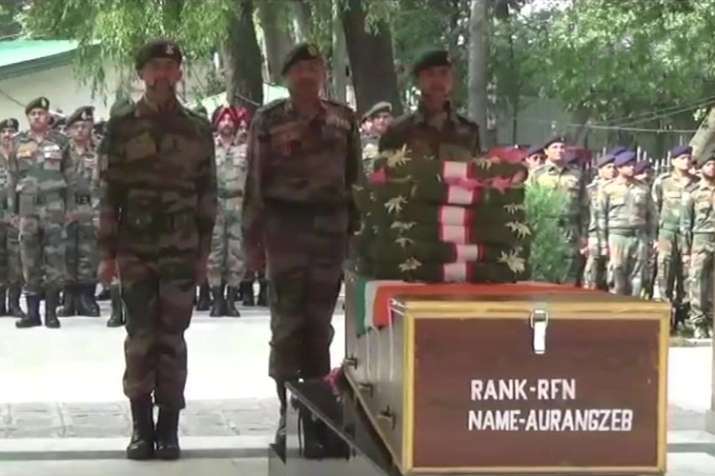 The father of slain soldier Aurangzeb has given a 72-hour deadline to the government to find and kill those who abducted and killed his son in cold-blood on Thursday evening. 
''What is stopping the government from taking a tough action against those responsible for killing my son. If the government does not take any action within 72 hours, I will myself take revenge of Aurangzeb's killing,'' he said on Friday.
Meanwhile, hundreds of locals joined the last rites of Army jawan Aurangzeb on Friday who was abducted and killed by terrorists while he was on his way home for Eid celebrations in Pulwama. 
The mortal remains of Aurangzeb, who belonged to 4 Jammu and Kashmir Light Infantry and was posted at the 44 Rashtriya Rifles camp at Shadimarg in Shopian, was brought to Srinagar camp for the wreath-laying ceremony.
Aurangzeb's bullet-ridden body was found in Pulwana's Gussu village on Thursday evening hours after he was taken away at gunpoint while he was on way back home on Eid leave. He was shot in his head and neck, police said.
At about 9:00 am on Thursday, Army men from the unit stopped a car asking the driver to drop Aurangzeb in Shopian, officials said, recounting what had happened. 
Militants stopped the vehicle as it approached Kalampora and abducted the jawan. Police, army units launched a massive manhunt to locate Aurangzeb. However, his bullet-ridden body was found later at Gussu village, about 10 km away from Kalampora, in Pulwama district. 
According to reports, rifleman Aurangzeb was part of the commando unit which killed Hizbul Mujahideen commander Sameer Tiger in an encounter in April. Sameer Ahmed Bhat, alias Sameer Tiger, the Hizbul Mujahideen's main recruiter, was gunned down in Pulwama district's Drabgam area.
In May last year, terrorists had kidnapped a young Lieutenant of Rashtriya Rifles, Ummer Fayaz, while he was attending a wedding in his family in Shopian. Fayaz's bullet-riddled body was found the next day.