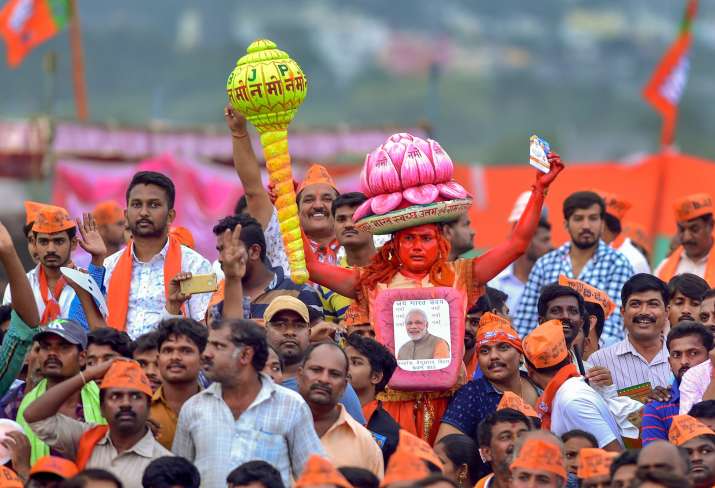 The Bharatiya Janata Party (BJP) on Friday released party's manifesto for the Karnataka Assembly polls and promised the waiver of farm loan of up to Rs 1 lakh from nationalised and cooperative banks if it comes to power in the state.
The party also promised in its manifesto to earmark Rs 1.5 lakh crore for irrigation projects.
BJP MP and state leader Shobha Karandlaje said that the manifesto was a "vision document" which reflected people's aspirations and expectations.
The party claimed that it consulted over three lakh people and experts before preparing the manifesto for Karnataka elections.
BJP state unit president and the party's chief ministerial candidate BS Yeddyurappa released the manifesto in the presence of Union Minister Prakash Javadekar and other leaders in Bengaluru.
Take a look at 25 key highlights of the BJP's manifestos for Karnataka Elections -
1. If voted to power, The BJP Government would bring out a 'white paper' on the financial health of the state under the Congress rule.
2. A scheme will come into place to provide Rs 25,000 and three grams of gold for brides coming under the BPL category during the marriage and opening of "Annapoorna Canteens".
3. "Go Seva Ayog" aimed at cow protection would also be revived.
4. The new government will launch "Mission Kalyani" to rejuvenate all tanks and lakes in the state.
5. It promised 3 phase power supply for 10 hours for farmers to operate their pumpsets.
6. The government will form a Special Investigation Cell, under a woman Police Officer and employing 1,000 police women to investigate all pending crimes against women.
7. The amount payable at maturity under the Bhagyalakshmi scheme will be increased to Rs 2 Lakh.
8. The Yeddyurappa Government will organise a Special Industrial Investment Summit for Hyderabad Karnataka region in one of the District Headquarters in the Article 371-J region every 2 years to attract investment into the area.
9. Rs 2,500 Cr "Nadaprabhu Kempegowda Fund" to clean and revive the lakes and rivers of Bengaluru and free Bengalureans from the water tanker mafia will be started.
10. Form "Kittur Rani Chennamma Flying Squads" to attend to distress calls of women in Bengaluru quickly.
11. Hyderabad Karnataka Industrial Mega Corridor will be built from Hosapete to Hyd passing through Koppal, Raichur, Yadgir, Kalaburagi and Bidar.
12. Commit to "Inclusive Long-Term Vision of Development" in carrying out a "30 District - 30 Hub" mega development plan.
13. BJP has promised to provide free sanitary napkins to BPL women and girl students and at Rs. 1 for other women under the new "StreeSuvidha Scheme."
14. BJP will launch the "MukhyaMantri Laptop Yojane" to provide every student enrolling in a college with a free laptop.15. BJP will launch the "Negilayogi Yojane" to provide direct income support of 10,000 each to 20 Lakh small and marginal dry land farmers.
16. Digital India making inroads to poor families. BJP will launch the "MukhyaMantri Smartphone Yojane" to provide women from Below Poverty Line (BPL) families with free smartphones.
17. BJP is set to establish a 10,000 Crore "Stree Unnati Fund" toset up one of the largest women run co-operatives and establish "Stree Unnati Stores" to market its products at district and taluk headquarters.
18. Start up culture will further flourish under BJP. It has pledged to develop 6 "K-Hubs" as the biggest incubators and co-working spaces for startups in India at Hubballi, Bengaluru, Raichur, Mysuru, Mangaluru and Kalaburgi.
19. Govt will bring back a separate agricultural budget to place focus on the needs of our farmers.
20. BJP will set up the "Raitha Bandhu Department", directly under CMO, to monitor the implementation of all farmer friendly schemes executed by the Agriculture, Minor Irrigation and Water Resources ministries.
21. To support farmers during price fluctuations, Rs 5,000 Crore "Raitha Bandhu Market Intervention Fund" will be set up providing a safety net for farmers.
22. BJP has pledged to ensure that farmers receive 1.5 times the cost of production as Minimum Support Price (MSP) to fulfill PM Modi's vision of doubling farmers' incomes.
23. BJP will announce a crop loan waiver upto 1 Lakh, including all loans from Nationalised Banks and Co-operatives, in first cabinet meeting for the benefit of our Annadaatas.
24. BJP will launch the "Mukhya Mantri Raita Suraksha Vime Yojane" to provide an accidental insurance cover of upto Rs 2 lakh, free of cost, for landless agricultural labourers. This proves holistic vision of the BJP govt.
25. Welfare of farmers has always been our priority. We will allocate Rs 1,50,000 Cr for various irrigation projects in Karnataka and ensure water reaches to every field in the state, said Yeddyurappa.
Elections for the 224-member assembly will be held on May 12. Counting of votes will be taken up on May 15.
Watch: Highlights of BJP's manifesto and main points of Congress' manifesto for Karnataka Elections 2018