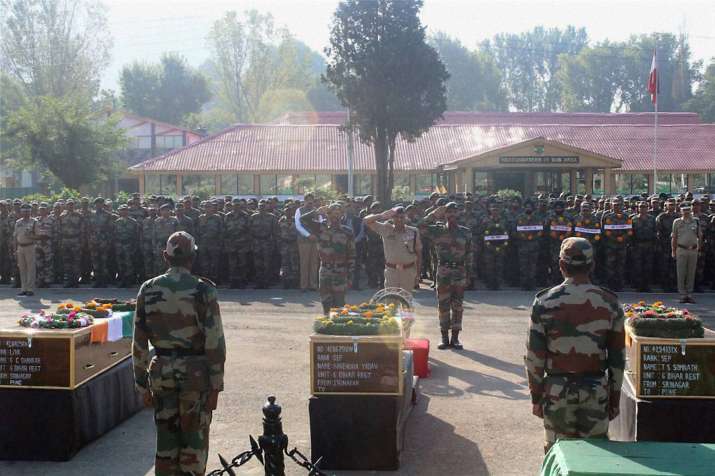 10-year-old Vansh, the eldest of the two sons of Havildar Ravi Paul Salotra, is aware that his father was martyred in Uri terror attack but that has only strengthened his resolve to don the olive greens to serve the nation and avenge the killing.
Ravi Paul of 10 Dogra Regiment was one of the 18 brave soldiers who lost their lives while fighting the four terrorists who attacked the Army Brigade Headquarters in Uri sector of Baramulla district on Sunday.
He had served the Army for 23 years.
Besides Vansh, 42-year-old Ravi Paul is survived by his wife Geeta Rani and another son Sudansheesh (7) and 80-year-old mother.
"My father used to call early in the morning. Yesterday he called us and we spoke at length on various issues. He asked me to concentrate on my studies so that I could fulfil his dream of becoming a doctor in the Indian Army," said Vansh, a class 6th student.
When asked whether he was aware of what tragedy has befallen on the family, Vansh, carrying two plastic tricolours, said his father laid down his life for the sanctity of the national flag.
"Yes I know that my father laid down his life for this tricolour and I will fulfil his dream of becoming a doctor in the Army so as to avenge the killing of my father," he said.
Meanwhile, in Kolkata, the mother of a soldier killed in the Uri attack demanded justice and strict punishment for the perpetrators as a pall of gloom descended on his village in West Bengal's Howrah district.
"I demand justice and strict punishment for those who killed my son," mother of Gangadhar Dolui said.
"My son rang me up a few days ago. He said he is alright. I don't belive that he is no more," the grieving mother said.
Another braveheart, Lance Naik RK Yadav, was days away from welcoming his third child. His wife hasn't been informed of her husband's death till yet.
Three days ago, the 33-year-old had ranged up his mother in Ballia, Uttar Pradesh and said, "Talk as much as you can as I would head to higher ranges soon where there will be no phone networks."
Little did the both knew that they wouldn't get to speak ever after the call.
Sepoy Ganesh Shankar had promised that he would come (Sant Kabir Nagar) in October for the preparations of his sisters marriage, recalls his brother Suresh Chand Yadav.
The 34-year-old supported a large family and has left behind three children.
The instances of 28-year-old Harendra Yadav's bravery are still popular in his village in Ghazipur. The villagers distinctly remember his heroic act of rescuing two people and animals from a hut on fire.
Father of Sepoy Rajesh Kumar Singh of Jaunpur is upset that his son died in a terrorist attack. "I would have been proud had he died in war," he said.
In one of the deadliest attacks on the Army in recent years, 18 jawans were killed and as many others injured as heavily armed militants, suspected to be from Pakistan-based Jaish-e-Mohammed, stormed a battalion headquarters of the force in North Kashmir's Uri town in the wee hours on Sunday.