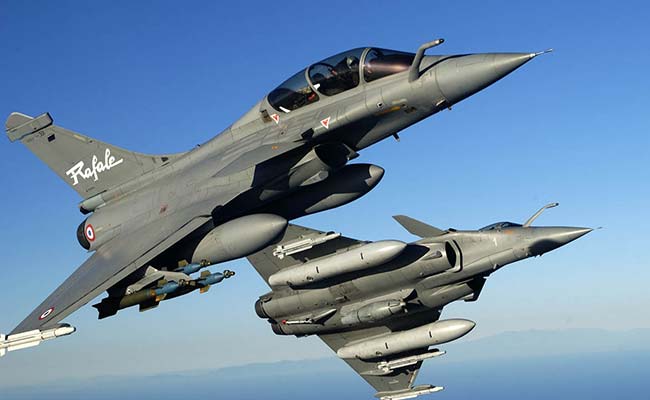 Facing a two-front war scenario against China and its "all-weather ally" Pakistan, the Indian Air Force is planning to deploy its latest Rafale combat aircraft at Ambala in Haryana and Hasimara in West Bengal, says a media report. 
Last September, India signed a deal with French Dassault Aviation to procure 36 Rafale fighter jets for close to Rs 60,000 crore to meet the urgent requirements on the eastern and western fronts.
"One squadron (comprising 18 aircraft) would be based in Ambala, while the other would be deployed at Hashimara. These would cater to requirements on both the fronts," the media report cited a government official as saying. 
With China increasing its defence ties with Pakistan and its aggressive military exercises on the eastern and northern borders, the Indian military has been preparing itself for a two-front war. 
On the eastern front, the Hasimara air base close to the China border would see Rafale planes replacing the existing Mig 27 squadrons, which are ready to bid adieu to the air force. 
The Air Force has rated Rafale planes higher than Su-30 MKIs, 272 of which have been ordered by India from Russia.
The report cited sources saying that the French aircraft manufacturer has already started the process of building the aircraft, and they are expected to be delivered from September 2019 onwards. 
The process of developing the infrastructure at air force bases has also started and they would be ready by the time the aircraft fly in for operational service. 
Meanwhile, the Air Force has already started the process of replacing its ageing fleet of Mig series planes on the eastern and western fronts, as it has been replacing the old MiG-21 variants with Sukhoi-30s acquired from Russia. 
On the eastern front, where aircraft with long range capability are required, the IAF has already based Su-30MKIs at Tezpur and Chhabua air fields, while it has deployed them close to the Pakistan front in Sirsa (Haryana), Halwara (Punjab) and Jodhpur (Rajasthan).