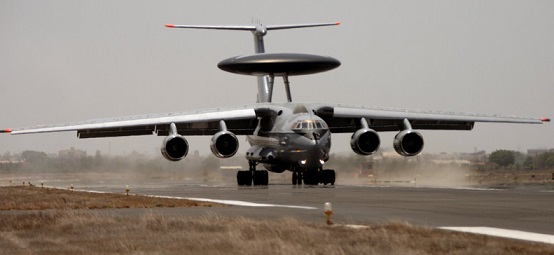 The Indian Air Force (IAF) is all set to induct the first indigenously developed all-weather airborne early warning and control (AWACS) system on February 14.
According to a report in Times of India, the IAF will induct the indigenous AWACS system at the Aero India 2017, in Bengaluru. 
The report includes that the first aircraft will be inducted on February 14, while the second one will be delivered in a few months.
As on today, India has only three Phalcon airborne warning and control system (AWACS), which uses the Israeli early-warning radars mounted in domes on top of IL-76 aircraft.
The indigenously developed AWACS will add to the capabilities along with the three Phalcon systems.
The system is equipped with 240-degree coverage radars in contrast to the existing Phalcons, which provide a 360-degree coverage over a 400-km range.
"It is equipped with multiple communication and data links that can alert and direct fighters against threats while providing Recognizable Air Surveillance Picture (RASP) to commanders at the Ground Exploitation Stations (GES) that are strategically located," DRDO said in a statement.