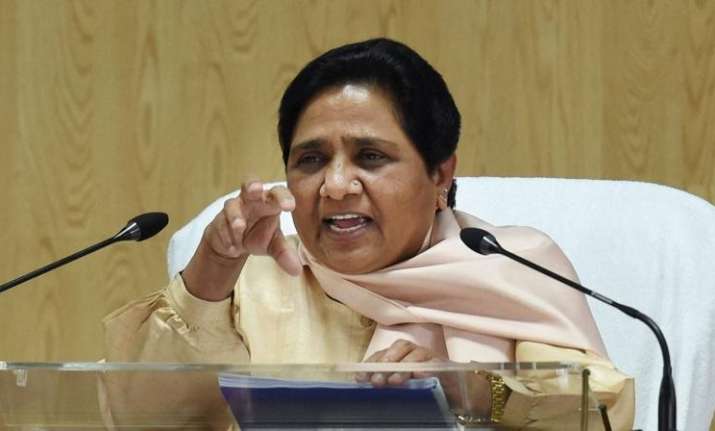 A major political controversy has erupted over BJP MLA Sadhna Singh's remarks over BSP supremo Mayawati. 
Singh, a legislator from the Mughalsarai constituency during a public gathering lashed out at Mayawati calling her 'worse than a eunuch'.
Without directly referring to the guest house incident, where Mayawati along with several other BSP leaders was attacked by Samajwadi Party workers, said that a woman who underwent a 'chirharan' (disrobe) is now compromising with the perpetrators, "she is worse than a eunuch."
"She has no sense of self-respect... she was almost molested earlier and yet... in history, when Draupadi was molested, she took a vow for revenge... but this woman, she lost everything, but still sold her dignity for the sake of power. We strongly condemn Mayawati ji. She is a blot on womankind. A woman who gulped down insults for comfort and power ... is a blot on womankind," Singh said.
The SP and the BSP last week announced that they would contest the upcoming 2019 general elections collectively against the BJP.
The remarks garnered widespread criticism from all corners. Reacting on the statement, BSP leader Mishra asserted that the SP-BSP alliance has rattled the morale of the BJP leaders and that they have lost their mental balance in fear of losing the coming elections.
"The language used by BJP leader Sadhana Singh against our party President Mayawati shows the level of the BJP. This shows that BJP is disappointed and frustrated with the SP-BSP alliance. They have no strength to win even a single seat in Uttar Pradesh. The level of language shows their mental illness. Such people should be admitted to the mental hospital of Agra or Bareli. The people of this country this time will show BJP its real place. They have lost their mental balance in fear of losing the election in Uttar Pradesh."
Reacting to the remarks, Congress spokesperson Priyanka Chaturvedi said the words used by the BJP MLA were "absolutely condemnable" and shameful.
"I believe she owes the women of the nation an apology besides apologising to Mayawati Ji. What I find absolutely unfortunate as a woman is that a woman leader speaks such derogatory words about another woman," she said.
The Bharatiya Janata Party has time and time again exposed its "anti-women mentality" right from Prime Minister Narendra Modi who has used language which is "sexist and misogynist" inside Parliament and outside, and refused to apologise for it, she alleged.
"Whether it is for Sonia Gandhi, whether it is for our Congress women leaders...We have had many of their chief ministers come forward with their own anti- women mindset and statements which are derogatory in nature," Chaturvedi said.
It clarifies and also shows that the BJP continues to endorse their anti-women agenda and anti-women mindset, she said.
If the BJP can't take action against Singh it will clearly prove that such remarks are not just endorsed, but encouraged, the Congress leader said.
The Trinamool Congress also reacted sharply to the remarks, with senior party leader Derek O'Brien saying: "We condemn the obnoxious language used against Behen Mayawati Ji.
The National Commission of Women (NCW) has also questioned the objectionable statements made by Sadhana Singh and said that it would formally issue a notice seeking an explanation from her.
Taking suo motu cognisance of the reports, an NCW official said the Commission will send a notice on Monday to Singh regarding the statement and seek an explanation from her.
Meanwhile, Sadhana Singh has expressed regret over her remarks and said that she only wanted to share a woman's pain and didn't want to insult anyone.
"I didn't say anything to insult anyone. This was not in my heart. People have been talking about the guest house case. I just reminded Mayawati and didn't say anything else. There were no intentions to hurt her".
Earlier in the day, Singh also penned a written apology stating that she had no intentions of disrespecting anyone.
BSP on Sunday filed a criminal complaint against Sadhana Singh for her objectionable remarks. The complaint was filed at Baburi police station in Chandauli district of the state by Ram Chandra Gautam who is in-charge of Varanasi and Azamgarh zone of the party.
In his complaint, Gautam alleged that Sadhana used 'foul' language against Mayawati. "Police have asked for 2 days to register an FIR", he told ANI.
FULL VIDEO: