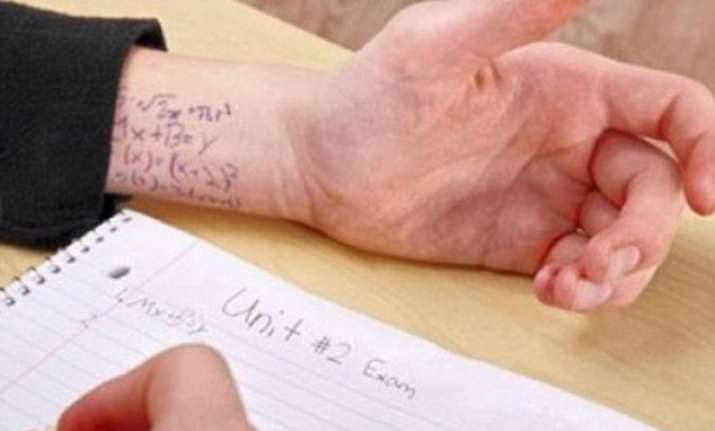 Uttar Pradesh seems to be walking on the footprints of Bihar in terms of cheating done at exam centres during the Board exams. The revelations made by several media reports remind of the "Bihar toppers scam" which grabbed the national headlines last year. 
In an investigation carried out by Times of India at the Shyam Lal Inter College in Farah, Mathura district, it was found that "informers" on motorcycles were situated at every 500 metres on the road to the exam centre, to send out an alert if anyone suspicious approaches the test centres, ensuring that the cheating is being done without any disturbance.
It was found that a cheating mafia was fearlessly and patiently dictating answers to the Class X students who were taking their Science exam. 
In another college in Raya, parents were seen sitting beside their children and solving their papers. Even the students were talking loudly and dictating answers to each other. Meanwhile, the invigilators were strolling around as if thing going there are invisible to them.
According to the report, each of these students had paid the cheating mafia, also called "nakal mafia" anything between Rs 5,000 and Rs 15,000. These mafias offer packages of Rs 5,000, Rs 10,000 and Rs 15,000 to meet the needs of all kinds of students. 
The Rs 5,000 package allows students to come and write their papers with the help of their own cheating material. Rs 10,000 is charged from students who opt for dictation of the correct answers. The highest package, of Rs 15,000, is for students who just come to mark their attendance and their papers are written by touts and agents. 
ANI recently reported that Class X students were caught mass cheating on camera at a Ballia school. As per ANI report, several students were seen copying maths paper from each other while some opened books to find solutions. Few students went outside their examination hall and exchanged notes.
A similar incident was reported in Mathura's Radha Gopal Higher Secondary School where education mafia entered the exam hall to give chits to the students appearing for the maths paper.  
Mathura ADM A K Awasthi said so far 55 students have been caught for cheating, and their copies marked out. He said the final decision on the fate of these kids would be taken by the education board.
District education officer, Mathura, Indra Prakash Singh said he has issued notice to 35 schools in Mathura, asking them to "give in writing" that cheating has not taken place at their centres.