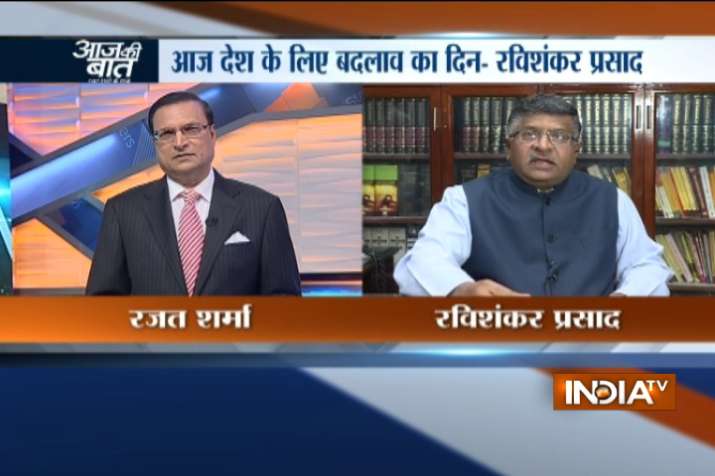 In what is being hailed as a landmark verdict, the Supreme Court on Tuesday struck down the long-prevalent practice of 'triple talaq' terming it unconstitutional and invalid. 
Union Law and Justice Minister Ravi Shankar Prasad, in an exclusive conversation with India TV's Chairman and Editor-in-Chief Rajat Sharma following the top court's verdict, ruled out the need for a new law, indicating that existing laws were sufficient. 
Asked if the government will come out with a new law, he said, "As of now, there is now need of introducing a new law. If the government sees the need in future, it will surely be done". 
"When 22 nations, including Muslim nations like Pakistan and Bangladesh, can abolish the practice of triple talaq, then why can't India being a secular nation do so," he said discussing the top court's verdict. 
In its judgement, the five-judge Supreme Court bench laid the onus on the legislative, saying it hoped the Parliament would come out with a law to deal with triple talaq within six months, adding that the stay on the practice would continue till the Parliament enacted or rejected the law.
Following the top court's historic verdict, all eyes were on the Centre over its stand on the matter of introducing a separate law to deal with the practice, despite the apex court holding it invalid and against the tenets of Islam in a majority verdict. 
Earlier today, the Union Minister told PTI that the judgement makes it clear that the majority (of the five-member bench) has held it (the practice of instant triple talaq) as unconstitutional and illegal. 
His remarks come after Supreme Court, in a majority decision, today declared triple talaq as unconstitutional and against the tenets of Islam. 
While CJI Khehar and Justice S Abdul Nazeer were in favour of putting on hold for six months the practice of triple talaq and asking the government to come out with a law in this regard, justices Kurian Joseph, R F Nariman and U U Lalit held it as violative of the Constitution.  
The majority verdict said any practice including triple talaq which is against the tenets of Quran is unacceptable. 
The three judges also said the practice of divorce through triple talaq is manifestly arbitrary and violative of the Constitution and must be struck down. 
The minority verdict by CJI Khehar and Justice Nazeer, which favoured keeping on hold the practise of triple talaq for six months, asked the political parties to set aside their differences and help the Centre in coming out with a legislation. 
The judges in the minority verdict said that if the Centre does not bring a law within six months, then its injunction on triple talaq will continue.