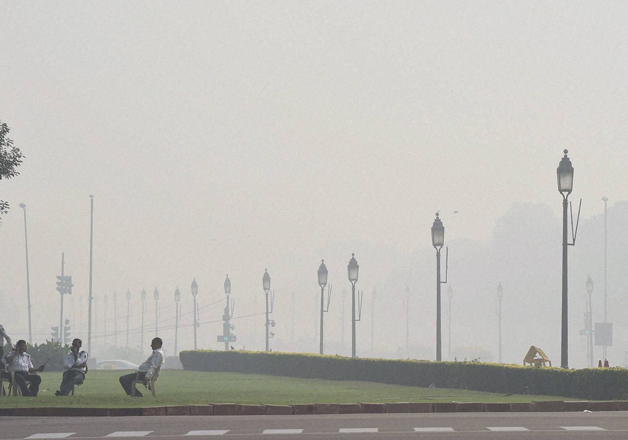 With no end to the severe levels of air pollution the capital has been reeling under for the past couple of days, the Environment Ministry today admitted that there were deficiencies in the enforcement of rules to tackle it and asked states to 'strictly' implement a host of measures to deal with the menace.
Admitting that the enforcement of rules for tackling air pollution was weak, the Ministry said that crop burning has been controlled in almost all neighbouring states of Delhi except in Punjab where large scale burning has been reported.
At today's review meeting with secretaries of NCR states here, Union Environment Secretary AN Jha said that Punjab has assured that it will make efforts to check the crop burning.
"Stubble burning has been controlled to a large extent in most of the states except in Punjab where there have been instances of stubble burning on a large scale between the last few days of October and first few days of this month. However, the Punjab government has assured us that they will make all efforts to check them. There are certain medium and long term measures to wean away the farmers from burning the crop. We have taken them on board and we shall be pursuing them in terms of making funds available to them and through schemes," Jha said. 
In December last year, the Central Pollution Control Board (CPCB) had instructed states on 42 points (to tackle air pollution). There were short, medium and long term measures. After issuing these orders, five or six meetings have already been held at the ministerial as well as CPCB level. Many steps have been taken. 
"There are many areas where much more needs to be done. Special focus needs to be given on enforcement of these orders. Because enforcement mechanism is still weak, states have been asked to make enforcement stricter and take whatever steps which needs to be taken," Jha said. 
Jha said various issues related to air pollution, including crop burning, dust pollution, pollution from landfill sites, building construction, vehicular pollution, industrial pollution were discussed during the meeting. 
"Delhi government has been asked to regulate and check the fly ash which is coming out of the Badarpur plant. We will also issue orders to NTPC so that while transportation whatever fly ash is going into the atmosphere, it stops. Delhi government has also assured us that it will immediately come out with an plan of action to utilise the money available with it from the collection of environmental tax and one per cent cess for steps to improve the environment," Jha said. 
He said although various steps have been taken separately by states, "much more" needs to be taken and all the states have agreed on the "seriousness" of the problem. 
Jha said around Delhi, all states have agreed to review and check pollution arising out of brick kilns and the ministry has also asked states to take immediate action against them. 
"Those brick kilns which are functioning on old technology, instructions have been given to states to check and review them and possible shut them down if they are polluting," he said. 
Among other instructions, states, especially Delhi, has been asked to check, monitor and review all the check points where PUC certificates are given to vehicles as to how many vehicles are coming in and getting certificates by the state traffic police and transport department. 
He said that cleaning of roads is another focus area where states have been asked to take measures. 
He said the CPCB will check the 17 critically polluting industries in the NCR region and see whether they are following norms while it will also monitor if diesel generator (DG) set guidelines are being followed or not. 
The CPCB chairman will review these measures with states every month so that the air quality of the national capital improves. 
Meanwhile, MCD schools will remain closed tomorrow as thick blanket of smog continues to cover the national capital.
With PTI Inputs