Follow us on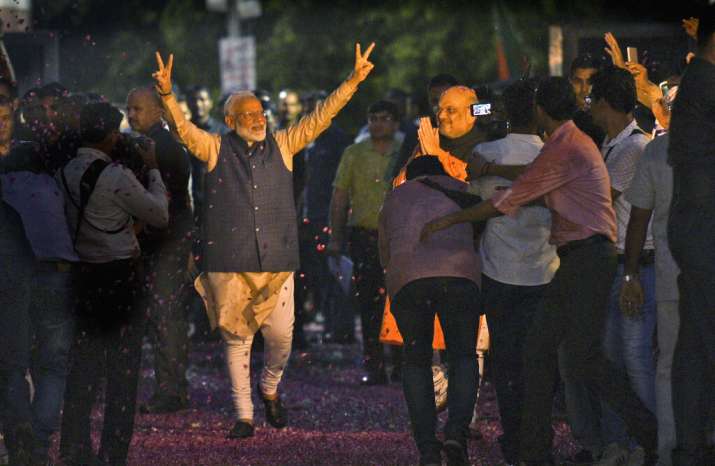 The Bharatiya Janta Party rolled over the opposition in the Lok Sabha election 2019. The result shows the dominance of the BJP in the whole of India, even in regions where it was historically considered an 'outsider'.
From taking on the 'Bua-Babua' combination in Uttar Pradesh to fighting Mamata Banerjee's TMC in West Bengal. BJP took them all on and it's fair to say that they have come out ace.
Same can not be said for Rahul Gandhi's Congress party. The party did make some gains over their dismal performance from 2014 but were simply a 'no match' for the Modi-Shah juggernaut. 
In that context, the results for Lok Sabha election 2019 brought to us some extraordinary numbers and facts.
Here are some of the most interesting facts of the May 23 results:​
BJP President Amit Shah in the Build-up to the elections had said that the BJP will be fighting for that '50 per cent vote share' his party has responded in grand fashion. Final figures show that BJP has secured a total of 49 per cent of the votes counted. This is a massive jump from the 31 per cent that BJP got in 2014.
In West Bengal, Mamata Banerjee's own backyard, BJP's vote share has gone up from 17 per cent in 2014 to 40 per cent in 2019.
BJP (62) has won more seats in Uttar Pradesh then Congress has won in all of India.
9 former Congress Chief Ministers including Shiela Dikshit and Bhupinder Singh Hooda lost from their respective seats in Lok Sabha election 2019.
This is the first time since 1971 (Indira Gandhi) that an incumbent Prime Minister has come back to power with a clear majority.
The average margin of victory for BJP in Rajasthan and Madhya Pradesh is 3.38 lakh votes and 3.06 lakh votes respectively. Considering these two states recently voted Congress in power in their state assemblies only 6 months back, it's safe to say that Congress definitely missed a trick here. 
The election results should and will bring about a sense of introspection in the Congress core committee. It remains to be seen if Congress can up its game in the political arena and also on social media where it is getting trolled brutally.
Also Read | 'Catch train in Mumbai, travel north, you won't find a Congress MP till Punjab'