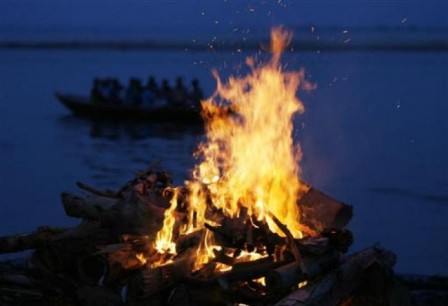 There can't be better show of humanity than this. In an inspirational incident contradictory to the prevailing religious intolerance in India, a group of Muslim youths from Mumbai's Mumbra area carried out the last rites of a 65-year-olf Hindu neighbour. 
According to a Times of India report, Waman Kadam, a building watchman, died at his Almas Colony tenement on Sunday night.
Kadam's two sons, who were from his first wife, and his relatives were reluctant to come over at night to help their ailing step-mother, Vitava.
She then asked the Muslim youths to help her cremate her dead husband, who not only searched a pundit to conduct the funeral rituals but also got a death certificate from the doctor. 
"My husband would never have thought that his last journey would be with so much honour. There were 40-odd Muslim youths in the funeral procession. We have known them since they were knee high; now, they turned out to be sensitive and responsible adults," Vitava was quoted by Times of India as saying. 
"I have known Kadam uncle since I was a child. We were always welcome in their house and aunty would offer us snacks and sweets. Religion was never a barrier," said Kasam Shaikh, one of those eight youths. 
On Sunday, Kadam was taken to a nearby hospital by the youths after he complained about feeling uneasy due to a liver ailment.
"We brought him home in the evening. In the night, we heard aunty scream for help as Kadam uncle was vomiting. We ran to their house and found him lying lifeless. We called up their relatives and two sons, who live in Mumbra and Badlapur, but most of them were reluctant to come over at night. They said they would come over the next morning," said Shaikh. 
When Kadam's sons and relatives refused to come out for funeral, Vitara asked the Muslim youths to cremate him as she was worried that the body would start decomposing. 
The group of Muslim youths arranged everything required to perform the last rites, such as bamboo, earthen pots, white cloth, incense sticks and thatched mat, along with a Hindu priest.

 

The body was then carried to a nearby crematorium by the youths at around 3 am. 
Just when one of the youths was about to light the pyre, one of Kadam's son, who also lives in Mumbra, reached there, lit the pyre and immediately left. 
The Muslim youths even collected the ashes on Tuesday to immerse in the river, as per Hindu rituals.