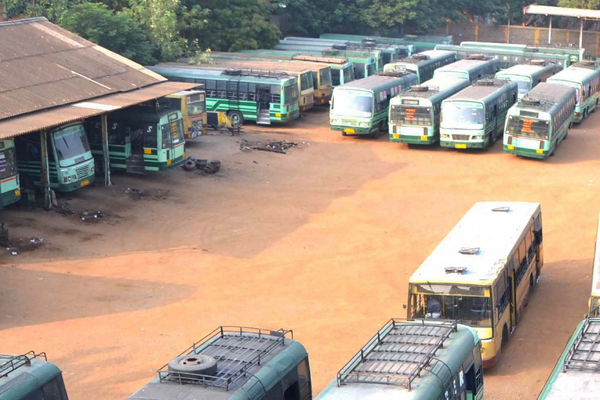 Agitating transport workers in Tamil Nadu today 'temporaril' withdrew their eight day old strike over wage related issues and said they would return to work tomorrow, ahead of Pongal festival, which falls on January 14. 
CITU leader A Soundarrajan told reporters that the strike was being "temporarily" called off, keeping in mind the people who have made plans to travel home for the Tamil harvest festival pongal, falling on Sunday. 
The Madras High Court appointing an arbitrator today to settle their wage dispute with the government "shows there is something more than the 2.44 factor," he said, indicating at their demand for a 2.57 time revision. 
"The strike is being temporarily withdrawn keeping in mind the welfare of the people of the state," he added.
Workers of Tamil Nadu State Transport Corporation (TNSTC) had launched their indefinite strike last Thursday following failure of talks with the government on wage revision. 
While unions wanted a 2.57 times hike, the government offered only 2.44, resulting in the stalemate. 
The workers struck work citing other demands also like pending dues for serving and retired personnel. 
Soundararajan said the unions will put forth before the arbitrator their arguments on the 2.44 factor. 
M Shanmugam, General Secretary of DMK backed Labour Progressive Federation (LPF) said the 2.44 factor is only "an interim arrangement," and said the strike was only being "suspended" and "postponed." 
"This strike is being suspended.... Postponed," he said and lauded the workers for their unity and discipline shown during this period. 
Both leaders insisted that workers will resume work from early Friday. 
The strike by about 17 unions, including those backed by DMK and Left parties, had severely crippled public sector bus services for the past one week, with the government deploying temporary drivers with valid licences to ply the buses. 
The AIADMK backed union, besides some others, had not participated in the protests. 
The court had earlier asked the workers to resume work or face the consequences, even as it had restrained the government from initiating action against them. 
Earlier, when the matter came up in the High Court, it appointed a retired judge E Padmanabhan as arbitrator to settle the wage dispute. 
The bench, comprising Justices S Manikumar and M Govindaraj, appointed Padmanabhan to adjudicate the difference of 0.13 multiplying factor (wage hike) and the date on which it should be applied and directed employees to return to work. It granted one month time for the arbitrator to submit the report. 
The bench noted that government agreed to three of five demands by the unions, subject to employees resuming work from this evening. 
It declined to agree to the request of the unions to refer the correctness and validity of the alleged settlement of January 4 as one of the terms of reference.