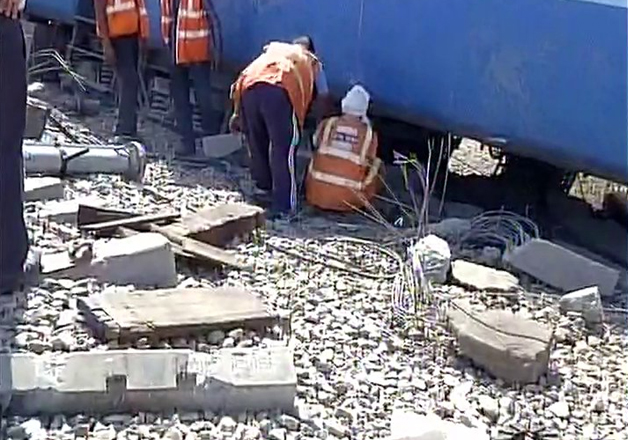 Eight coaches of  the Jabalpur- Nizamuddin Mahakaushal Express derailed near Mahoba railway station in Uttar Pradesh in the wee hours today.
The incident took place at around 2:07 am, according to the Chief Public Relations Officer (CPRO) of North Central Railway.
Uttar Pradesh: NDRF team at the Mahakaushal express derailment site in Mahoba conduct rescue operations pic.twitter.com/lW2982zApz

— ANI UP (@ANINewsUP) March 30, 2017
The cause of the derailment is yet to be ascertained. 
At least 52 passengers were injured in this accident.  
Ten of the seriously injured have been admitted to a private hospital in Mahoba.
47 member NDRF team at Mahakaushal train derailment site, NDRF's RP Singh says no casualties so far,less probability of people being trapped pic.twitter.com/yBuIiPpN6c

— ANI UP (@ANINewsUP) March 30, 2017
UP Minister for Health Siddharth Nath Singh, who rushed to the spot, announced a monetary assistance of Rs. 50,000 each to the seriously injured and Rs. 25,000 to those who suffered minor injuries.
Thirty doctors and 21 ambulances have been rushed to the accident site, the minister said.
Relief and rescue operations are on in full swing and two helpline numbers have been activated for the help of passengers and their family members.
The numbers are 05101072 and 051921072.
The bogies which derailed comprised three AC and three general. 
Railways have ordered an inquiry into the derailment which left 400 metres of track damaged.
The mishap disrupted rail traffic on the route with services of 14 trains disurpted, railway officials said.
In Lucknow, ADG (Law and Order) Daljit Chaudhary said prima facie there was nothing suspicious but all aspects will be investigated as it is a serious issue.  
Railway officials and teams of ATS and NDRF are at the spot and investigations are on to ascertain the cause of the mishap, the ADG said.
Railway Board member (Traffic) Mohd Jamshed said that an inquiry into the derailment will be conduted by a senior railway official.
Asked whether it was an act of sabotage or any defect in the rolling stock led to the mishap, he said, "Nothing can be ruled out till the report is submitted." 
On some recent cases involving security around rail tracks in different parts of the state, the ADG said investigations proved there was no terror link but all cases are being thoroughly probed with the help of experts. 
All coaches that derailed today were conventional ones and manufactured at the Integral Coach Factory in Chennai. 
 
Though a few coaches tumbled, they did not climb over each other as it happens in such cases, resulting in minimum damage.
The train with 10 coaches left the accident site at 6.48 AM.
Railways have pressed 15 buses into service for carrying about 200 passengers, who were travelling in affected coaches, to Jhansi.
At least 17 helplines have been made operational at different stations en route to assist relatives of passengers travelling in the train.
Besides, railways have made catering arrangement for the passengers on the site.
The derailment has affected services of 14 trains, out of which seven were diverted and an equal number of trains cancelled.
Meanwhile, Minister of State for Railways Manoj Sinha today said that A crack in the tracks prima facie caused the derailment of Mahakaushal Express.
Speaking on the sidelines of a function, Minister of State for Railways Manoj Sinha said that "according to the Divisional Railway Manager, prima facie fresh weld failure on left side caused the derailment."
Fresh weld means it was not an old crack and that the crack developed suddenly and could not be detected.  
While the UP ADG (Law and Order) Daljit Chaudhary said 52 passengers were injured in the mishap, Sinha said 21 were injured, including one seriously.
Giving details of the incident, the CPRO said that the train derailed between Mahoba and Kulpahar stations.
Senior officials, including the general manager of North Central Railway M C Chauhan, have rushed to site and rescue operations are on. 
Railway officials have operationalised helplines at Jhansi, Gwalior, Banda and Nizamuddin stations to disseminate information to relatives of the passengers.