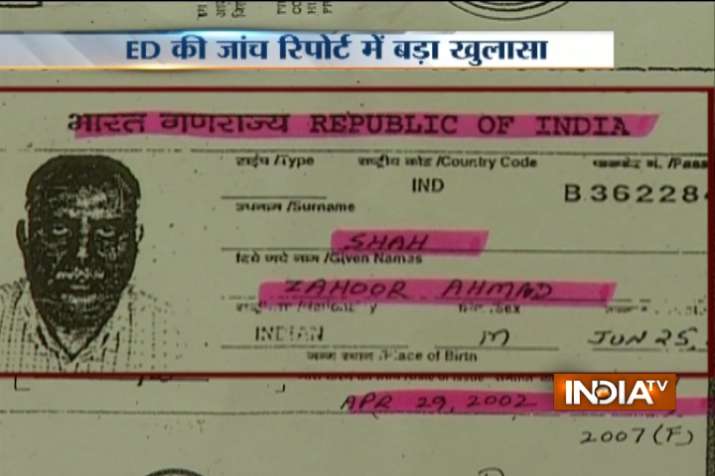 The Indian agencies, particularly the National Investigation Agency (NIA) and Enforcement Directorate (ED) have been continuing their crack down on the financial system that funds terrorists to stoke unrest in the Valley.
While there has been a gradual decline in the violence level in Jammu and Kashmir since 2001, there is ample evidence that the terrorist infrastructure remains substantially intact. Despite the increased scrutiny on the flow of funds for militants, sufficient finances continue to flow to maintain the infrastructure for the jihad in J&K.
An inquiry report by the ED, available exclusively with India TV, reveals about a Hurriyat leader who has been working for Pakistan's intelligence agency ISI and has been involved in providing funds to terrorists in Kashmir.
According to the report, Jahar Ahmad Shah Vatali, Kashmir's billionaire businessman, has been working in nexus with ISI and has been receiving funds from across the border with which he has now maintained properties worth hundreds of crores across the country. He has several movable and immovable assets in Delhi NCR region.
India TV's Editor-in-Chief and Chairman Rajat Sharma tonight presented in Aaj Ki Baat show, facts from the ED inquiry report that expose how Jahar Ahmad received immense monetary funds from Pakistan and who transferred this money to fund terrorism in the Valley. 
The ED report states that Ahmad owns at least five properties in Delhi NCR's posh areas like Greater Kailash, Chittaranjan Park and Kalka Ji, which are believed to have been bought by terror funding.
Here are the details of the properties owned by him:
• Flat no. 20, NRI Complex, Greater Kailash-4, Delhi
• Flat no. N-24, first floor, Chittaranjan Park, Delhi
• G-26B, first floor, Chittaranjan Park, Delhi
Other than these, Ahmad has a residential complex in Delhi's Sainik Farms and a flat in Gurgaon's DLF City. 
The security agencies, in their investigation, found that whenever is in Delhi, he meets and stays with other Hurriyat members, including Huriyat Conference's Bilal Loan, in the flat in NRI Complex. 
India TV reporter, in his investigation, found that the Chittaranjan Park flat has been locked for the last 1.5 years. Neighbours told that he comes once in two years and stays here with some Hurriyat leaders.
Just two weeks ago, an ED team had raided Ahmad's residence in Srinagar's Barzullah area where they had found documents that prove his involvement in funding terrorists in Kashmir.
The agency found that huge amounts were transferred in Ahamd's account from Dubai – a total of Rs 24 crore in the last 18 months.
HSBC Bank confirmed about huge amounts being deposited into Ahmad's accounts (HSBC Bank Noida Sector 18 – A/c no. 094219847007 and 094219847006). This money was transferred by one Sayed Jahid hussain shah और Dhajani trading llc.
The inquiry report also states that they had received information about Ahmad's involvement in terror funding in 2005 and they had informed the government regarding this. However, no action was taken against him in the next ten years.