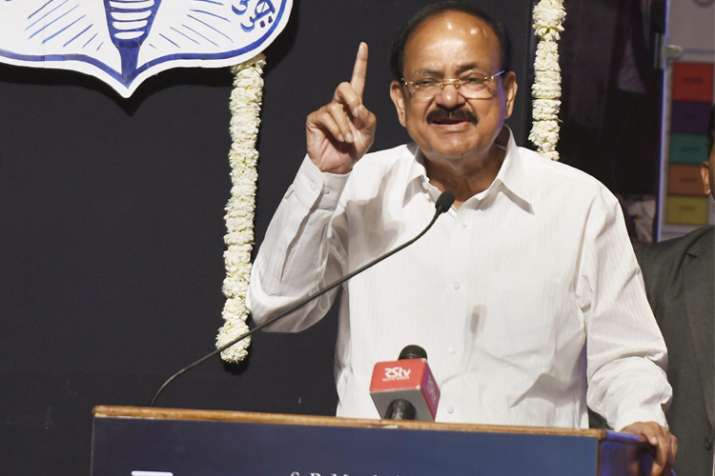 Vice president Venkaiah Naidu on Monday said that one can eat beef if he wants, but celebrating it or organising festivals in its name is a reason for concern.
Speaking in Mumbai at the RA Podar College of Commerce and Economics, Naidu said, "You want to eat beef, then eat. Why a festival? Similarly, a 'Kiss Festival', if you wish to kiss why do you need a festival or anyone's permission for it".
Naidu's remarks on beef appeared to be referring to beef festivals organized by students at IIT-Madras in May 2017, and a similar festival held by Youth Congress workers in Kochi in June 2017.
Naidu has earlier commented on food choices being personal. In April 2017, before he became Vice President, he had said, "Food is a personal choice, but at the same time there are certain restrictions in the Constitution."
Last year, the government had announced strict rules to prohibit sale of animals for slaughter or religious sacrifice, following which several slaughterhouses were closed down across the country. 
The Vice president also hit out at Parliament attack convict Muhammad Afzal Guru. "Then you have Afzal Guru. People are chanting his name. What is happening? He tried to explode our parliament," he said. 
On February 8, an advisory had been issued in Jammu and Kashmir in the wake of the death anniversaries of Afzal Guru and Jammu and Kashmir Liberation Front (JKLF) founder Maqbool Bhat.
The advisory comes after the JKLF announced to stage a protest against the hanging of Afzal Guru and Maqbool Bhat on February 9 and February 11.
Guru and Bhat were hanged and buried inside New Delhi's Tihar Jail on February 9, 2013 and February 11, 1984 respectively.