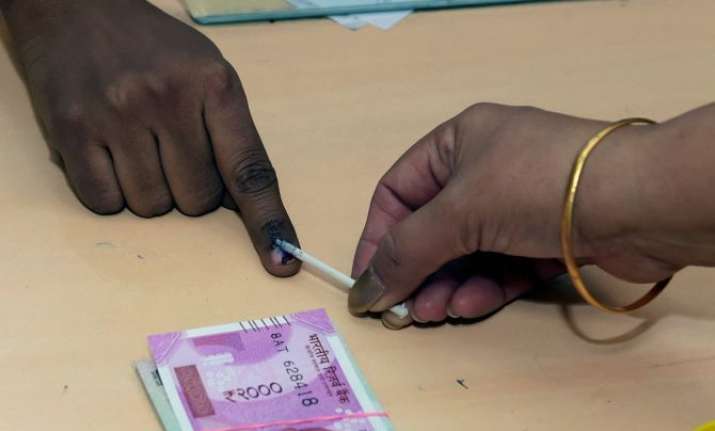 The Election Commission has asked the Finance ministry not to use indelible ink in banks as it might create problems in states going to polls. 
In a letter written to the Finance ministry, the Election Commission has raised serious concern over banks using the indelible inks for exchanging notes of Rs 500 and Rs 1000 denominations.
The EC has pointed out that the indelible ink is used during elections to mark citizens who have already voted.
The banks are reported to be applying ink on the right hand of customers to avoid confusion during elections, when the ink will be applied on the left hand.
The government has asked banks to apply indelible ink on the index finger of the right hand of customers to ensure one-time exchange of old Rs 500, Rs 1000 currency notes of up to Rs 4500.
The decision was taken to ensure that black money operators are prevented  from using other people's accounts to exchange or deposit notes.
A top official of the Karnataka government-run Mysore Paints and Varnish Ltd (MPVL), the only recognised producer of the indelible ink in India,  was quoted by The Indian Express as saying that the MPVL had received orders for 2.9 lakh 5-ml bottles, each costing Rs 116, from various banks by Wednesday evening.
According to the Standard Operating Procedure (SOP) issued to banks on Wednesday, the indelible ink "can be applied by the cashier or any other official designated by the bank before the notes are given to the customer so that while the exchange of notes is taking place, a few seconds lapse which will allow the ink to dry up and prevent removal of ink".
On Thursday, the Bank Employees Federation of India (BEFI) had alleged that  the government decision to use indelible ink to prevent people from making multiple cash withdrawals from banks was an "eyewash".
"The use of indelible ink has been an eyewash. Most bank officials were unable to procure the ink till Wednesday night. Even on Thursday, supply of indelible ink was not satisfactory. The Election Commission refused to provide indelible ink... Bank officials have no alternative but to use delible ink," BEFI General Secretary Pradip Biswas said.