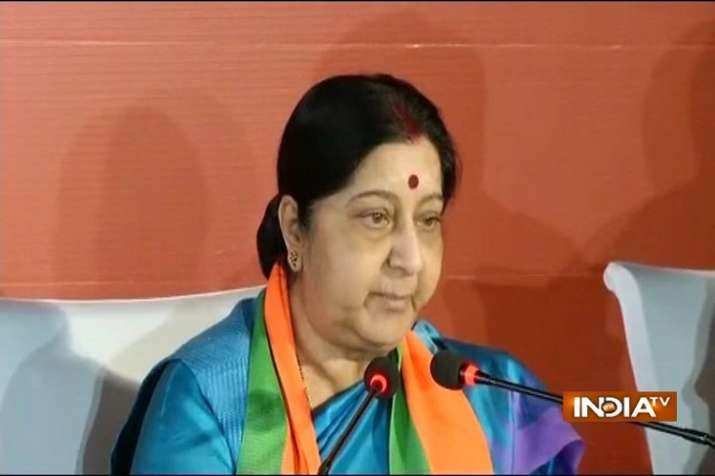 Hitting out at Congress president Rahul Gandhi over his remarks questioning Prime Minister Narendra Modi's understanding of Hinduism, External Affairs Minister Sushma Swaraj on Saturday alleged that Rahul has been presenting himself as Hindu just to garner votes as elections in some of the states are round the corner.
Slamming Congress president for his statement, the minister said "Don't preach us on Hinduism."
Taking a jibe at Rahul, she said " A statement came that he is a jeneudhari Brahmin, but I didn't know that he had gained so much of knowledge that we now have to learn the meaning of Hinduism from him. I wish the day won't come when we have to learn meaning of being a Hindu from him." 
"Rahul Gandhi said PM doesn't know meaning of being a Hindu. He said that because he and Congress are confused about his religion and caste. For years, party presented him as secular leader but near polls when they realised that Hindus are in majority,they created this image," she added.
Taking a swipe at Congress leader P Chidambaram, Sushma said  "I'd like to remind Mr. Chidambaram that in UPA's tenure IMF & World Bank listed Indian economy in the fragile 5, it was listed as one the economies that were on decline. Today these two organizations themselves call India the fastest growing economy."
Also Read | PM Modi shaped surgical strike into political asset, Manmohan Singh approved such military actions thrice: Rahul Gandhi
During a session with the business community in Rajasthan's Udaipur, Congress president Rahul Gandhi on Saturday had questioned the Hindu quotient in Prime Minister Narendra Modi. Rahul had alleged that PM Modi doesn't understand the foundation of Hinduism.
"What is the essence of Hinduism? What does the Gita say? That knowledge is with everybody, knowledge is all around you. Every living being has knowledge. Our PM says he is a Hindu but he doesn't understand foundation of Hinduism. What kind of a Hindu is he?" Rahul Gandhi had said.
Watch: Sushma Swaraj lashes out at Rahul Gandhi