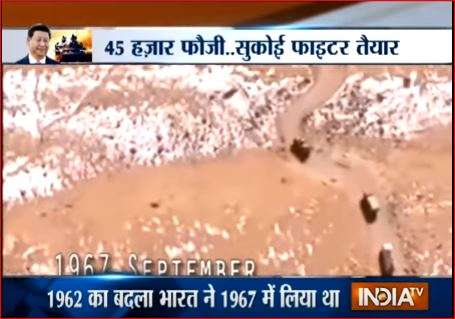 Amid continuing standoff in Doklam, India is now in a mood to militarily confront China on this issue. The Indian Army is reportedly ready with "Plan 45000" to teach the Chinese Army a lesson if war breaks out between the two countries. Under this plan, 45,000 Indian soldiers have been put on high alert to face any eventuality on 1400 km long border with china. Sukhoi fighter jets have also been kept ready to deal with any emergency. To safeguard the Eastern Theatre on India-China border, soldiers of 3 and 4 corps as well as Sukana-based 33 corps have been put on alert in 'No War No Peace" mode
According to defence experts, around 45,000 soldiers have completed Weather acclimatisation process. This process prepares soldiers to face any eventuality. 
Defence Minister Arun Jaitley has also made it clear that the Indian forces are ready to tackle any situation on China border.
The flag meeting between senior army officials from India and China at Nathu La mountain pass in Sikkim on Friday ended without reaching to any conclusion on the Doklam standoff as New Delhi insisted on simultaneous withdrawal of troops by both sides. 
The army officials from the two sides extensively discussed the Doklam standoff but the "deliberations remained inconclusive", PTI quoted its sources as saying.  In the Border Personnel Meeting (BPM) attended by Major General rank officers from both sides, India insisted that the face-off could be resolved through simultaneous withdrawal of troops by the Indian and Chinese sides, they said.