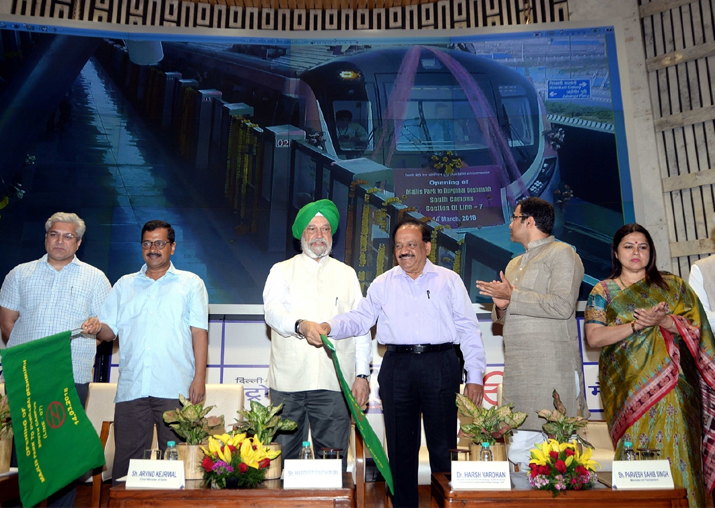 The newly-opened stretch of the Pink Line today took both the Delhi Metro and its riders to dizzying heights, giving passengers a bird's eye view of the sprawling city from a vantage point as high as the top of a seven-storeyed building.
Rising at 23.6 m in busy Dhaula Kaun area, this is the highest point in the 252-km-long network of the mass rapid transit system that has shrunk distances and connected heart of the city to nondescript locations.
Trains crossing over this point on the 21.56 km-long Majlis Park-Durgabai Deshmukh South Campus section of the Pink Line, tower above the Airport Express Line below and the urban metropolis in the distance, giving people an opportunity to see the city from a whole new perspective.
"We have reached the highest point in our network, it is an accomplishment and a moment of joy for us. But, it will also be a moment of thrill for riders, as they will get a panoramic view of the city from a towering elevation," a senior DMRC official said.
Incidentally, out of the 12 stations on the stretch, eight are elevated and the rest underground. As with the recently-opened Magenta Line, broad-sized coaches from the new rolling stock, will ply on the standard gauge Pink line.
The stations falling on the operational stretch are -- Majlis Park, Azadpur, Shalimar Bagh, Netaji Subhash Place, Shakurpur, Punjabi Bagh West, ESI Hospital, Rajouri Garden, Mayapuri, Naraina Vihar, Delhi Cantt and Durgabai Deshmukh South Campus.
This new section is part of the 59 km-long Majlis Park - Shiv Vihar corridor (Pink Line - Line 7) of Delhi Metro's Phase 3.
Once completed, it will be the longest corridor in the network, surpassing the Yellow Line and Blue Line, both of which span a little below 50 km.
Once completed, Majlis Park - Shiv Vihar corridor wil have 36 stations and connect one end of the city to another.