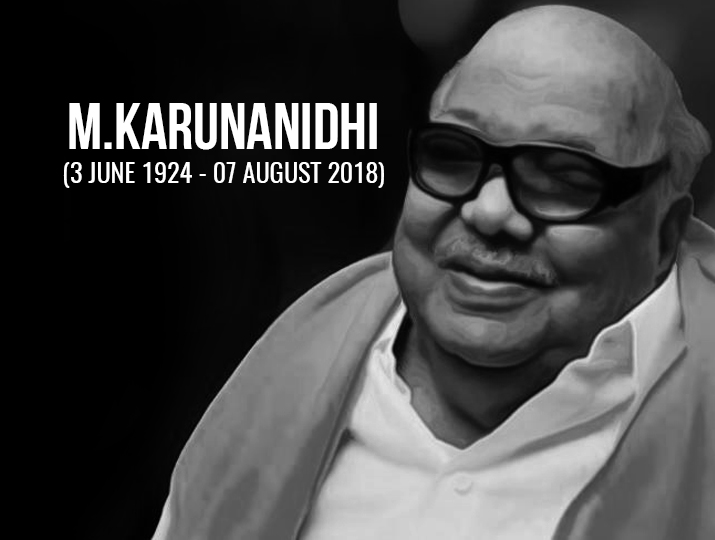 Dravidian stalwart, Titan of Tamil Nadu politics, harbinger of federal politics, advocate of the rights of the State governments and state autonomy, successful screenwriter- words are perhaps limited to describe M Karunanidhi. Affectionately called by 'Kalaignar' by his supporters and folowers, the former Tamil Nadu Chief Minister breathed his last after battling illness for 11 days at the Kauvery Hospital in Chennai. He was 94. 
Karunanidhi is survived by wives Dayalu Ammal and Rajathi Ammal; children MK Muthu (born to his first wife Padmavathy); MK Alagiri, M. Stalin, MK Tamilarasu and daughter Selvi (through Ms Dayalu); and M Kanimozhi, born to Ms. Rajathi.
Karunaindhi, who first became the Chief Minister of Tamil Nadu in 1969, following the death of his mentor CN Annadurai was elected four more times as the head of the state. The former DMK chief, revered and adored by thousands of his supporters had an electoral record of victories that is probably unmatched in Indian political history. He was elected a record 13 times to the Tamil Nadu Legislative Assembly.
While the whole nation is mourning over the death of the monumental leader, a whole debate is going on just a day before his funeral in Tamil Nadu whether to bury the DMK patrirch at the Marina, beside the memorial of his mentor and former Chief Minister CN Annadurai. The Tamil Nadu government on Tuesday refused permission to bury Karunanidhi at the Marina citing several legal hurdles. Instead, the government said that it ready to allot two acres of land near the Gandhi Mandapam on Sardar Vallabhbhai Patel Road to bury the departed leader. The DMK has moved the Madras High Court against the decision. Madras High Court acting Chief Justice Huluvadi G. Ramesh has agreed to hear the plea on Tuesday night, if the papers are in order. The Advocate-General has been informed about the hearing. Meanwhile, Congress President Rahul Gandhi and South-Indian superstar Rajinikanth have joined the chorus demanding Karunanidhi to be buried at the Marina beach.
The Home Ministry on Tuesday announced that the national flag will fly at half mast in Delhi and all state capitals across Tamil Nadu on Wednesday as a mark of respect to former Chief Minister of Tamil Nadu M Karunanidhi.
The Ministry informed that the former DMK chief will be accorded a state funeral on Wednesday.
The Government of India will also observe state mourning across the country on Wednesday and there will be no official entertainment during the day, a Home Ministry spokesperson said.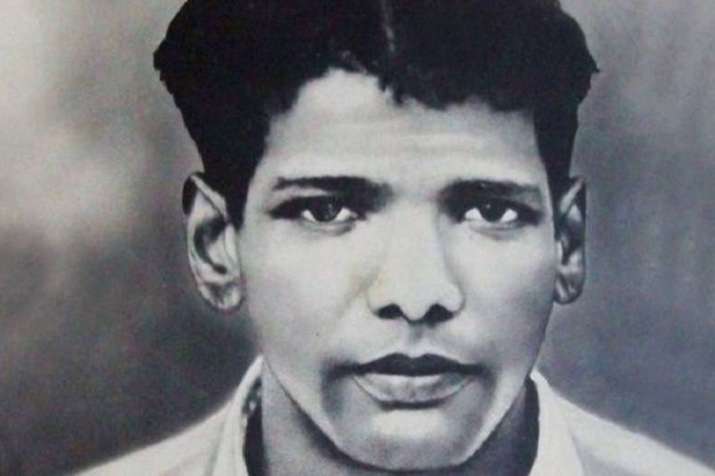 Born Dakshinamurthy on June 3, 1924 in Thirukkuvalai village in Nagapattinam district to Thiru Muthuvelar and Thirumathi Anjugam Ammaiyar, he later changed his name to Muthuvel Karunanidhi. Karunanidhi forayed into youth politics at a tender age of 14 inspired by the fiery speech of Alagiriswamii, considered the pillar of the Justice Party. His participation in the Kallakudi agitation aided him to gain ground in Tamil politics.At the age of 33, Karunanidhi entered the Tamil Nadu assembly winning the Kulithalai seat in the 1957 election. Once he joined the DMK party, he became its treasurer in 1961 and then the opposition leader in the following year. By 1967 when the party came to power Karunanidhi wielded a powerful position. In 1967, Annadurai was serving as the chief minister of Tamil Nadu but could not continue due to his sudden death. Two years later,  Karunanidhi took over Annadurai's position as a Chief Minister and since then he has been elected once in 1971, 1989, 1996 and in 2006. 
Apart from being a successful politician, Karunanidhi made his presence felt in the Tamil film industry as a screenwriter. Through his movie scripts he touched concepts like widow remarriage, abolition of the zamindari system, obliteration of religious hypocrisy, eradication of untouchability and self-respect marriages. His unconventional themes made him one of the most sought after screenwriter during his time.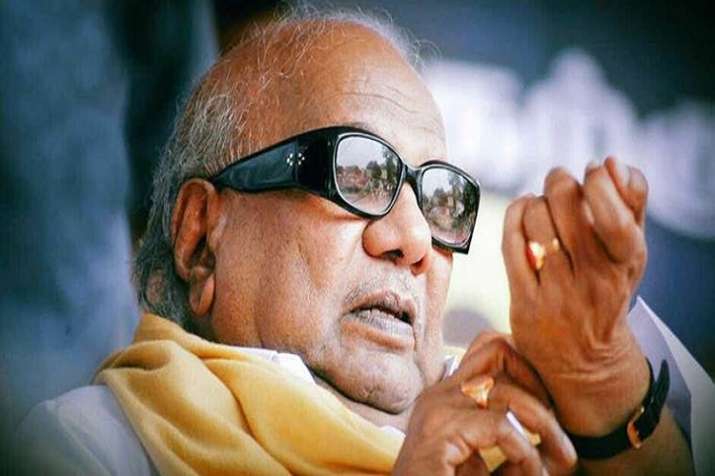 Karunanidhi is also known for his contributions to Tamil literature. His contributions cover a wide range: poems, letters, screenplays, novels, biographies, historical novels, stage-plays, dialogues and movie songs. He has written 'Kuraloviam' for 'Thirukural', 'Tholkaappiya Poonga', 'Poombukar', as well as many poems, essays and books. Apart from literature, Karunanidhi has also contributed to the Tamil language through art and architecture. Like the 'Kuraloviyam', in which Kalaignar wrote about 'Thirukkural', through the construction of Valluvar Kottam he gave an architectural presence to Thiruvalluvar, in Chennai. At Kanyakumari, Karunanidhi constructed a 133-foot-high statue of Thiruvalluvar in honour of the scholar.
Political leaders, business magnates and film stars all across the nation condoled the death of the former Tamil Nadu Chief Minister.
President Ram Nath Kovind called Karunanidhi a "doyen of our public life" who had few peers while Vice President M Venkaiah Naidu said the Tamil leader left a mark of his own during his long public life of about 80 years.
Prime Minister Modi described him as a prolific thinker and a deep-rooted mass leader who stood for regional aspiration and national progress. 
"Kalaignar Karunanidhi stood for regional aspirations as well as national progress. He was steadfastly committed to the welfare of Tamils and ensured that Tamil Nadu's voice was effectively heard," Modi tweeted.
Congress president Gandhi said the DMK leader strode the stage of Tamil politics like a colossus for six decades, adding, India has lost a "great son" in his demise. 
BJP chief Amit Shah said Karunanidhi had an impressive life journey, starting as a screen writer in Tamil film industry to being five term Chief Minister of the state. "No one can forget his struggle during Emergency."
JD-S supremo H D Deve Gowda said the Tamil leader was a "doyen of our public life and that his opposition to emergency will always be remembered.
"Today, India lost one of its greatest sons. And Tamil Nadu lost his father figure," West Bengal Chief Miniser Mamata Banerjee said before leaving for Chennai to pay her last respect to him.
Former prime minister Manmohan Singh said the country has lost a versatile genius who was an outstanding artist, an eminent writer and a true leader who always stood for the cause of the poor and downtrodden classes of the society.
BJP veteran L K Advani described Karunanidhi as a doyen of Indian politics and a man of committed ideals.
"He was a doyen of Indian politics who had started his career after independence. He was a man of committed ideals, he excelled in the field of politics and had also made valuable contributions to the Tamil literature," Advani said in a statement. 
The death of "Kalaignar" M Karunanidhi would remain a "black day" in his life, actor-politician Rajinikanth said on Tuesday. "I will never forget this day in my lifetime," said the 67-year-old actor.
"Political leaders in Tamil Nadu have always been larger than life. Kalaignar Karunanidhi ji was a giant among men for sure. But in every encounter that I had with him I was struck by his informality, his humour and his hearty laugh.The most celebrated men are always the most human," industrialist Anand Mahindra said.
Industry body CII said the country has lost a great visionary, dynamic and inspiring leader who ensured equitable socio-economic development of Tamil Nadu.
In a statement, CII President Rakesh Bharti Mittal condoled the demise and said "during the tenure of Dr Karunanidhi as Chief Minister over many terms, industrial growth in Tamil Nadu had progressed remarkably well."
Karunanidhi's death has surely left an indelible mark on the Indian politics. 
WATCH VIDEO: