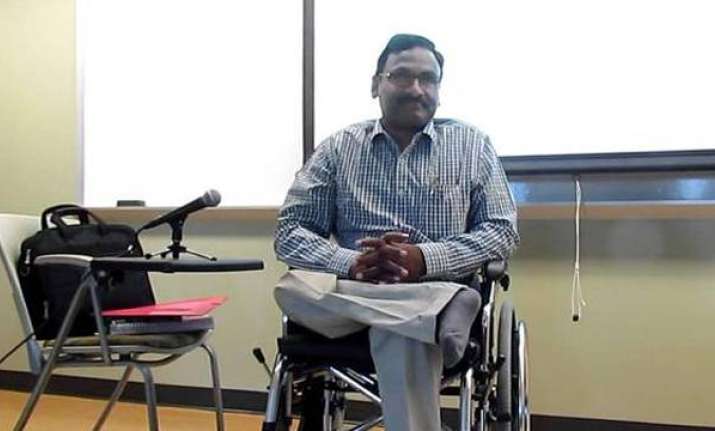 A Maharashtra court on Tuesday sentenced wheelchair-bound Delhi University professor G N Saibaba and four others to life imprisonment for aiding and abetting Naxal activities. 
Professor G N Saibaba, who teaches English in DU,  was arrested in May 2014. He was given bail by the Supreme Court in June last year on ground of failing health.

 

A district court in Gadchiroli sentenced Professor Saibaba and others for having links with the banned Naxalite outfit CPI (Maoists).
Refusing to show any leniency to the physically challenged Professor, the court held him responsible for huge loss of lives and public property.
"Merely because Saibaba is 90 per cent disabled is no ground to show him leniency… he is physically handicapped but he is mentally fit, a thinktank and a high-profile leader of banned organisations," Principal District and Sessions Judge S S Shinde said. 
"Though he is physically handicapped, he is mentally fit. He is a think tank and leader of banned political organisation CPI (Maoist) and its frontal organisation RDF," the judge said.
The judge further said that it was a fit case for awarding life imprisonment to Professor Saibaba and other accused except Vijay Tirki.
"Several lives were lost from 2009 due to your activities and there was huge loss of public property. The imprisonment for life is not a sufficient punishment to the accused, but the hands of court are tied with the mandate of Section 18 and 20 of UAPA. It's a fit case to award life imprisonment to all the accused, except one (Vijay Tirki)," the judge said in his order. 
Terming the judgement shocking, Saibaba's wife Vasanta said that the lower court's judgement will be challenged in Bombay High Court.
"Our advocates will move the (Bombay) high Court... This judgement is shocking... It seems the state and Central governments have put a lot of pressure on the judiciary to implement anti-people and undemocratic policies at the behest of corporates and MNCs," Saibaba's wife said in a statement.
She also alleged that by sending people like Saibaba behind bars, the BJP was trying to push the RSS agenda in the country.
"The (state and Central) governments have selectively suppressed the voice of people to plunder the resources of this country. The BJP government wants to push nakedly the agenda of RSS by sending people like Saibaba behind bars," she added.