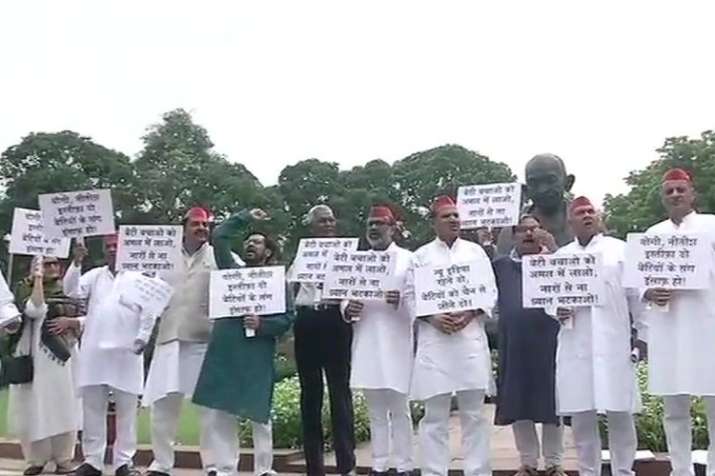 The 14th day of the ongoing Monsoon Session of Parliament witnessed uproarious scenes over Muzaffarpur, Deoria shelter home sexual abuse cases with the Opposition staging a walkout from Lok Sabha during Home Minister Rajnath Singh's speech.
Speaking in the Lower House of Parliament on Tuesday, Rajnath Singh while describing the Deoria incident as  shameful and unfortunate and assured that guilty won't be spared. The Opposition, however, objected to him thanking the Yogi Adityanath government for taking swift action following reports of sexual abuse of teenage girls at an illegal shelter home in Deoria. 
"Yogi government should be congratulated for taking immediate action in the case. Concerned officials were suspended. The couple running the shelter home were arrested and the probe was handed over to senior most officials," Rajnath Singh said triggering an uproar from the Opposition benches. Congress, Samajwadi Party, NCP, RJD and TMC MPs later staged a walkout from the House over Rajnath Singh's statement. Opposition MPs also held a protest outside the Parliament complex and demanded resignations of both UP CM Adityanath and his Bihar counterpart Nitish Kumar.
Meanwhile, in a latest development in the Deoria shelter home sexual assault case, police have arrested Kanchanlata, daughter of Girija and Mohan Tripathi, the couple which used to run the shelter home. 
Earlier in the day, Uttar Pradesh Women and Child Welfare Minister Rita Bahuguna Joshi sought to blame the previous governments for the horrific case and said Opposition parties should refrain from taking political mileage out of it.
"It was either negligence or connivance, it will be decided when the reports come in. CM is monitoring this. He is very firm that those responsible will not be spared," Joshi told reporters during a press conference in Lucknow.