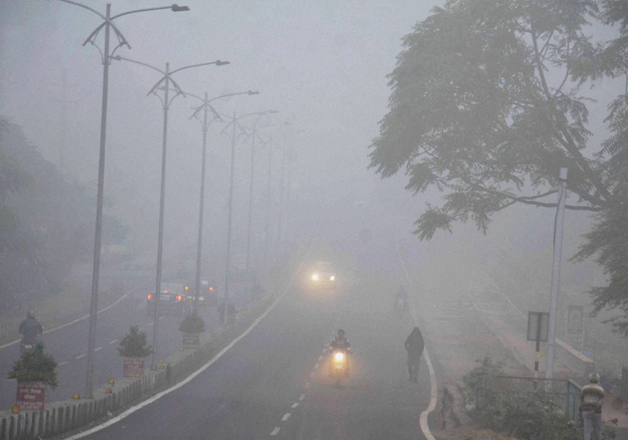 Delhi-NCR today woke up to a chilly morning as a dense blanket of fog enveloped the region, leading to almost zero visibility levels, thereby affecting flights and trains movements.
The minimum temperature at 6 am was 8.7 degree Celsius. The visibility at Palam Airport was reported to be extremely low at 150 meter, affecting landing and departure of flights. 
Over six international and at least seven domestic flights operating from IGI airport were delayed, ANI reported.
At Safdarjung, the visibility was 200m at 6am. Areas including Noida and Faridabad too recorded thick fog. 
Due to low visibility, rail traffic was severely hit with 100 trains running late. More than a dozen of trains have been rescheduled. 
Cold wave hits Delhi, dense fog disrupts normal life; Visuals from Rajpath. pic.twitter.com/fJeyXu4pUW

— ANI (@ANI) December 8, 2016
The MeT department has predicted that the city will continue to witness more mornings of dense fog in the coming days.
Meanwhile, advisories suggesting people to avoid outdoors are in place yet again with the air quality in the national capital turning 'severe' under the collective impact of dense fog and reduced wind speed.
#DelhiFog: Flight operations at Delhi's IGI airport affected as dense fog shrouds the national capital resulting in low visibility pic.twitter.com/66YqB90F5a

— ANI (@ANI) December 8, 2016
The condition is likely to persist over the next few days, an IMD official said, adding that visibility will drop across the city over the next few days due to dense fog formation, which shoots up the level of pollutants as moisture traps it.
The Central Pollution Control Board's (CPCB) air quality index (24-hour average) was in the 'severe' category with a reading of 407, which may affect healthy people and seriously impact those with respiratory ailments. 
The 24-hour-average (rolling) of PM 2.5 and PM 10, ultra-fine particulates, were 209 and 401 micrograms per cubic metre respectively, violating the prescribed standards of 60 and 100 respectively by multiple times. 
Early in November, the city had experienced the worst spell of smog (smoke and fog) in 17 years when the pollutants had managed to permeate the indoors as well.