Follow us on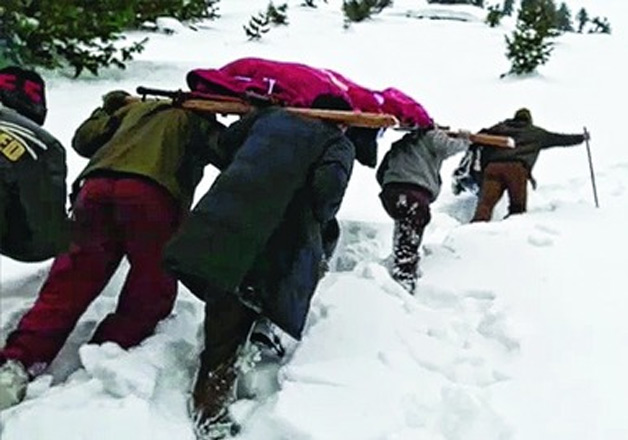 The Indian Army today termed false the reports of a jawan trekking about 50 km through snow carrying the corpse of his 60-year-old mother in Kashmir's Kupwara district without any assistance from the unit.
Jawan Muhammad Abbas (25), who belongs to a remote village of Karnah tehsil in Kupwara and is posted at Pathankot in Punjab, had taken his mother Sakeena Begum to his work place to ensure she escapes the biting cold in Kashmir  a few weeks ago. But his mother, who had been ill, died of a cardiac arrest on January 28.
Next morning, Abbas returned to Srinagar with the body of his mother. Since the roads were blocked due to heavy snowfall in the Valley, he urged an Army officer for a chopper to fly her mother's body to his village for the final rites.
When Abbas realised that his request was being snubbed, he left for Drangyari in Kupwara, hoping the Army might help them fly the body to Chitrakote, 52km away. But the help never came. 
In Drangyari, Abbas was joined by a few relatives. The jawan kept calling the officers for a chopper but no one heeded to his repeated requests. They remained stranded in Drangyari for three days.
Abbas said that he was promised that a helicopter will be arranged by the Kupwara administration to take him home to his village in Karnah tehsil. "But they kept us waiting and we are now left with no option but to walk," he said. 
It was on Thursday morning that Abbas decided to embark on the most arduous journey of his life. The 52km long route (Chowkibal-Karnah), which is prone to avalanche, passes through elevations of 3,200 metre. 
District officials later said that they had arranged for a helicopter today but the family refused to avail the facility.
"They were not sure about the weather and whether the helicopter could take off," a senior official said. 
He said that men and machinery are being used to clear the highway that Abbas is traversing.