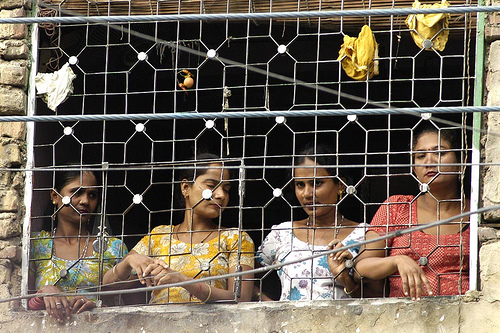 The government's decision of demonetising 500, 1000-rupee notes has left everyone struggling with a cash crisis. The impact is being felt across the economic spectrum, one which has not spared even the vast spread sex-trade in Delhi-NCR.
A Mail Today report citing 'agents' involved in the business says that from high-profile escort agencies operating in colonies to the 'reasonably priced' brothel houses at GB Road, there has been a turn down of 60-80 per cent in customer flow, despite the fact that they are accepting scrapped Rs 500 and Rs 1,000 notes. 
"This is unprecedented. We have never witnessed such a decline before," an operator from South Delhi's Saket and Mahipalpur was quoted in the report as saying.
 

"All we can do to sustain ourselves is to give discount and accept banned notes. We have convinced girls to accept old currency promising help in depositing those in bank," he said. 

 
Another agent who operates from Green Park said that the "sex industry runs on hard cash" and in the current situation when people don't have new currency, "the pleasure industry is bound to be hit".
Most agents involved in sex-trade in Delhi revealed that they have slashed the rates by up to 30 per cent to deal with low demand. 
 

"The services that came for Rs 5,000, are now available at Rs 3,500. We have been informing our regular customers about lowered prices through message services on phone," said an agent.

 
Besides high-paid sex workers, the infamous red light area GB Road has also witnessed a sharp decline in customer flow in the last week.
Sex workers at GB Road's kothas explained that after the news of 'demonetisation' on TV, they became reluctant in accepting Rs 500 and Rs 1,000 notes but their middle-men advised them to go ahead. Still, the customers are nowhere to be seen. 
There are about 5,000 sex workers operating from nearly 150 kothas in GB Road and most of them don't have any bank accounts. 
 

"Since a lot of us have come from West Bengal, Jharkhand, Orrisa, Andhra Pradesh and Chattisgarh, we do not have Aadhar or Ration cards. Bank staff demand documents to exchange old notes which we do not have. We can only rely on our middleman to get our savings exchanged into new notes," said a sex worker Dimple.