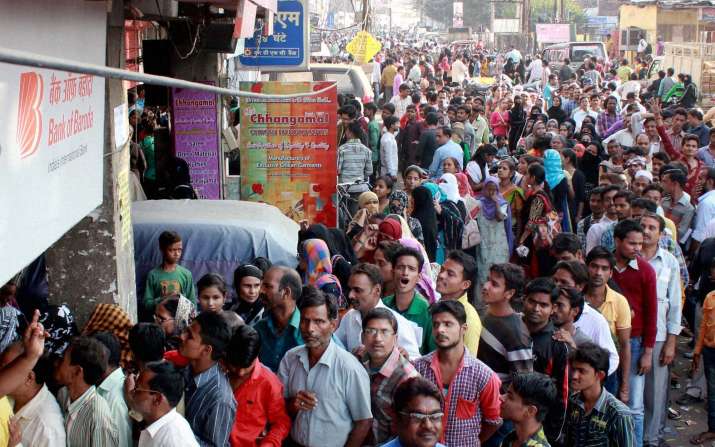 A 45-year-old farmer in Raigarh district of Chhattisgarh allegedly committed suicide as he was apparently upset over not being able to get his high-denomination notes exchanged for fresh ones due to serpentine queues in banks after demonetisation of Rs 500 and Rs 1000 notes.  
In Uttar Pradesh, a 20-year-old woman allegedly committed suicide by hanging herself from a ceiling of her house as she did not have valid currency for her treatment in Shamli district, police said. 
The farmer Ravi Pradhan's wife Pushplata claimed that he was in urgent need of money to help their two sons who were in Tamil Nadu, but was facing inconvenience after old high currency (Rs 500 and Rs 1,000) notes were banned.  
"Pradhan's body was found hanging at his house in Maharajpur village under Saria development block on November 12 night," Sarangarh Sub Divisional Officer of Police (SDOP) Junas Bada said.  
"The exact cause that prompted him to take the extreme step was yet to be ascertained as no suicide note was found at the spot," he said. 
As per preliminary information, Pradhan was ailing and was undergoing treatment. The statement of his wife was yet to be recorded, he said.  
A case has been registered in this connection, the SDOP said, adding that further probe was on.  
"My two sons Sunil (22) and Anil (20) were working at a yarn mill in Tamil Nadu. On November 10, one of my sons called his father (through his mobile) and informed that they urgently need money as their contractor escaped without giving them their wages. They wanted to come back home for which they were in need of cash," she said.  
As old currency notes were scrapped, Pradhan had to immediately go to the bank for the exchange.  
He stood in queues for two consecutive days at a bank branch in Saraia, around two kms away from Maharajpur, to get exchanged Rs 3,000, but unfortunately he could not reach the counter (before the bank shut down), she claimed.  
"He was extremely upset with it," she said.  
Woman commits suicide in Muzaffarnagar  
Shabana committed suicide on Sunday allegedly by hanging from the ceiling as there was no valid currency available at her home and Mobin, her brother, was standing in a queue to get the currency exchanged, SHO Anuradha Singhal said. 
The incident came to light when her brother returned home, without getting the currency exchanged, and found her hanging, she said.
According to her family, Shabana was worried over her treatment as she was not keeping well for some time and did not have valid cash.
Two injured in scuffle over old currency notes  
In another incident in Shamli, two persons were allegedly injured during a scuffle with employees of a petrol pump who refused to accept old high denomination currency notes on Saharanpur-Delhi highway in district, police said today.  
Kanhayya Lal and Raju, the petrol pump employees, have been arrested for beating two customers yesterday when the latter were paying Rs 500 and Rs 1000 notes but they refused to accept them, police said.  
A case has been registered aganist the employees.