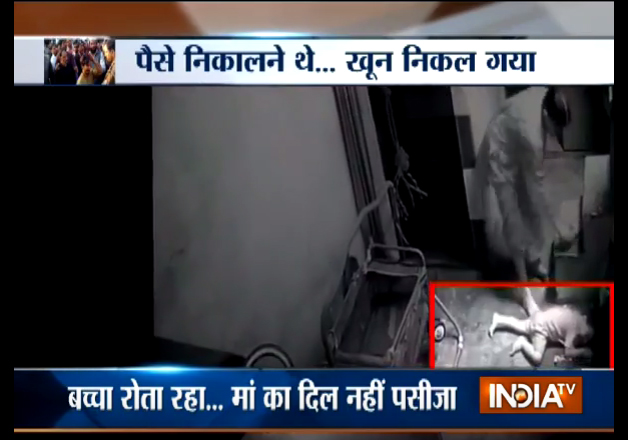 Delhi Police have booked a 30-year-old woman for brutally beating up her 18-month-old son in Geeta Colony area of the city.
According to media reports, the case was registered after the Delhi Commission for Women (DCW) intervened into the matter following a complaint received from in-laws of the woman.
The CCTV footage of December 8 incident, which DCW submitted with the police, show the mother thrashing the child with a slipper, her feet and pushing him to the floor till a relative comes to his rescue. 
"The commission took cognizance of the complaint and directed a mobile helpline team to visit their home. The commission's counsellor met the sister-in-law of the accused, who handed over CCTV footage, where the woman can be seen beating the child," said a DCW spokesperson.
The accused has been booked under the Juvenile Justice Act and IPC Section 323, police said, adding that the woman is absconding.
The woman's family alleged that she was aggressive and even beat up her relatives several times. 
"They complained against her to the DCW in the past too, but no action was taken, so they installed a CCTV inside the house to monitor her activities," police said.
The woman, police said, got married around eight years ago. Her husband is employed with a private firm in the city. The couple has two other children aged three-and-a-half-years-old and six-months-old. 
Police informed that the child has been placed under the care of his aunt and grandmother and professional counselling for the accused has been recommended. 
However, reports also said that the accused may have been suffering from postpartum psychosis, a diagnosable mental condition.
Post-partum psychosis is a completely treatable extreme mood disorder that new moms may develop. "It looks like a case of postpartum psychosis, and it is important that we are sympathetic towards the mother. Instead of punishing her, she should be made to undergo a complete mental evaluation and proper treatment," Dr SK Khandelwal, head of the department of psychiatry at All India Institute of Medical Sciences (AIIMS), told Hindustan Times.