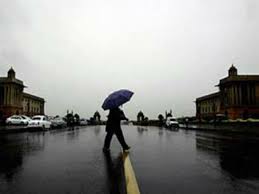 The India Meteorological Department (IMD) has predicted light scattered rains in the national capital accompanied by a rise in the minimum temperature over the weekend. 
According to a MeT official, there will be light to very light rains or thunderstorms across the national capital from January 5 to 7. 
There will be some mist or shallow fog in the morning but it will soon clear out," he told IANS. 
As per the IMD forecast, the minimum temperature is set to rise by 3-4 degrees Celsius Friday onwards due to clouds covering the sky.
"There will also be a 3-4 degrees Celsius fall in the maximum temperature over northwest India from Friday with shallow to moderate fog prevailing over Delhi, Punjab, Haryana and Uttar Pradesh," the IMD said in its forecast.
The IMD official, however, added that after this brief period of scattered light rains, the minimum temperature across Delhi will again fall and "will hover around 6 degrees Celsius". 
The minimum temperature during the weekend will remain between 8 and 9 degrees Celsius and the maximum temperature will hover between 18 and 20 degrees Celsius.
Delhi experienced moderate to dense fog in most of the areas on Thursday. 
"West Delhi's Palam had dense fog on Thursday morning with the visibility falling to 50 metres, while the rest of Delhi had moderate fog with 200 metres of visibility," an IMD official said.
The IMD predicted that on Friday, there would be moderate to dense fog in Delhi with the minimum temperature falling to 6 degrees Celsius and maximum hovering around 22 degrees Celsius.
(With IANS inputs)