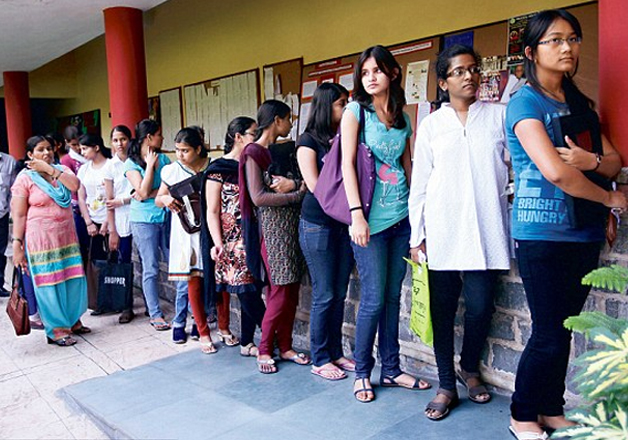 New Delhi: The Delhi University on Thursday released the fourth cut-off list with cut-off marks in all courses on available seats registered a decline of about 0.25 to 4 per cent marks.
A DU official said that seats in some popular courses at several prominent colleges are still available.
Economics (Hons) seats are available at 97.25 per cent marks at SRCC.
For B.Com course, seats are available at Ramjas for students securing 96.25 per cent marks, SRCC 97 per cent, College of Vocational studies 95 per cent, Arobindo 94.75 per cent.
A big relief for students is availability of B.Com seats in the last fifth list would be announced later by the DU, the official informed.
The reserved category students have adequate options of admission in the fourth cut-off list.
For general students, admissions to Science courses are limited to Chemistry, Physical Sciences and Mathematics.
The university had received 2.5 lakh applications for the 54,000 seats in 63 college for admissions in academic sessions 2016-17.
In a major shift from previous years, no DU college had kept the ceiling at 100 per cent in the first cut-off.
This is for the first time that the university has introduced full-fledged online admission procedure for UG admissions unlike previous years when it used to be both online and offline.
This is also the first time that the DU has decided to take out only five cut-off lists. More than 2.5 lakh students applied the varsity this year for admission into its various undergraduate courses.
With PTI Inputs