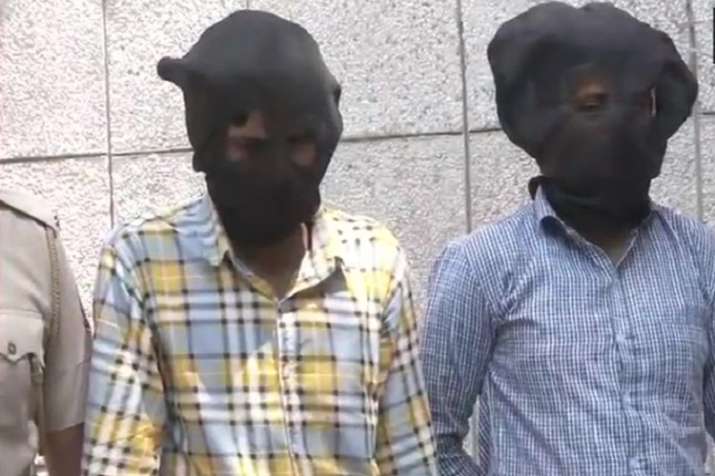 Two more people were arrested on Saturday in connection with an incident involving a Delhi policeman's son who was brutally thrashing a woman in a video that went viral. 
Police said Hasan is the owner of a call centre at Hastsal road, where the viral video was allegedly shot and the other accused, Rajesh, works as a peon at the same call centre.
The main accused, Rohit Tomar (21), the policeman's son, was arrested on Friday after Union Home Minister Rajnath Singh tweeted that the video has come to his notice and he has directed Delhi Police Commissioner Amulya Patnaik to take necessary action in the matter.
The cases against the main accused - one of criminal intimidation and molestation and the other of rape - were registered based on the version of two women, police said.
The first case was registered on Thursday at the Tilak Nagar police station in West Delhi following a complaint by Rohit Tomar's woman friend alleging that he showed her a video in which he could be seen thrashing a woman, Deputy Commission of Police (DCP West) Monika Bhardwaj had said.  
Rohit Tomar allegedly threatened her with the same kind of treatment if she did not follow his instructions.
The second case was registered at the Uttam Nagar police station after another woman, who was seen in the video, approached the police on Friday alleging that on September 2, Rohit Tomar had called her to his friend's office in Uttam Nagar and raped her.
He will be arrested on production warrant from court for further investigation in the case in Uttam Nagar, a senior officer said. 
In the video, he is seen thrashing the woman when she threatened to file a police complaint against him. Apart from him, one person is seen roaming around while another one filmed the incident.
The person filming it could be heard asking Rohit Tomar to stop beating the woman. But he continued thrashing the woman and abusing her.
The woman, seen in the video shared widely on social media and shown on TV channels, told the police that the accused called her to his friend's office in Uttam Nagar and raped her, Deputy Commissioner of Police (Dwarka) Anto Alphonse, said on Friday.
He is the son of Ashok Kumar Tomar, an assistant sub-inspector with the Delhi Police in the central district. The accused was employed with a call centre till last month and is currently unemployed. He is a second year student of Delhi University, where he is pursuing BA (programme) through correspondence.
Police said the woman, who was allegedly threatened by Rohit Tomar with an assault video, was in a relationship with him for one-and-a-half years and they were about to get married. 
Police are also probing the role of Ashok Kumar Tomar as he has been accused of shielding his son. 
It has been alleged that he was allegedly involved in threatening the victim's family.