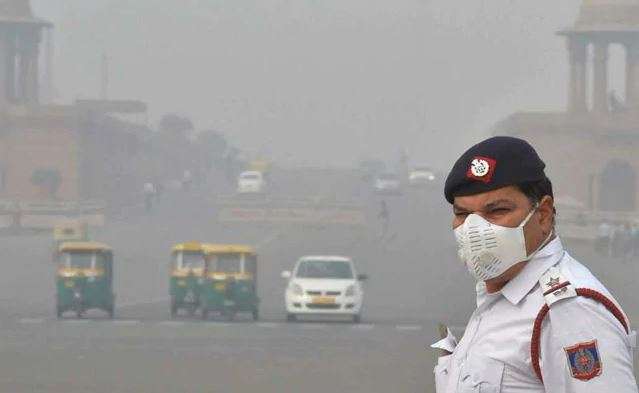 The national capital on Friday recorded the "worst" air quality on the pollution index this season, with experts cautioning that the quality in Delhi-NCR might worsen from next month, increasing woes for Delhiites on Diwali. 
The overall Air Quality Index of Delhi was recorded at 361 on Friday evening, which falls in the 'very poor' category, but not very far from the 'severe' category, according to the Central Pollution Control Board (CPCB).
An AQI between 0 and 50 is considered 'good', 51 and 100 'satisfactory', 101 and 200 'moderate', 201 and 300 'poor', 301 and 400 'very poor', and 401 and 500 'severe'.
The Centre-run System of Air Quality Forecasting and Research (SAFAR) also reported an AQI in the 'very poor' category.
The SAFAR also recorded high content of PM10 and PM2.5 in the air at 332 and 195 microgramme per m3.
It has forecast even worse indices for Sunday -- 359 (PM10) and 211 (PM2.5).
PM10 and PM2.5 are ultra fine particles that may reach lungs and affect its functioning. The permissible level for the two particles are 100 and 60 microgramme per m3 respectively.
Faridabad, Noida, Greater Noida, Ghaziabad and Gurgaon also recorded air quality in the 'very poor' category Friday, according to the CPCB data.
Experts have projected that air quality may dip further in the coming days, especially from beginning of the next month, due to adverse weather conditions and approaching winter.
"As per data from the IMD, we can say the air quality is likely to get further affected due to change in wind direction and slower and calmer winds. Right now, the wind is coming from south, southeast and east. From November 1, it is expected to come from the northwest, that is, from Punjab and Haryana. So, that might affect the quality," an environmental expert said.
Delhi-NCR faces pollution every year due to stubble-burning of crops by farmers in these states.
The air quality in the capital had shown signs of improvement Monday as it moved from 'very poor' to 'poor' category. However, it dipped to 'very poor' again Wednesday even as parts of Bhalswa landfill site in north-west Delhi continue to smoulder.
On Thursday too, the capital city recorded an AQI in 'very poor' category at 331.
Sunil Dahiya, Senior Campaigner at Greenpeace India, expressed concern over the deteriorating air quality in the city and urged authorities to take action.
"Everyday delay in our action is causing huge health and economic damage to the country. The NCAP (National Clean Air Programme) in its modified forms with fixed targets should be implemented now without any further delay," he said.
A Delhi Fire Service official said Friday that a fire tender was stationed at the landfill site as parts of the dump site was still smouldering.
The fire had raged at the landfill site on October 20. However, by Tuesday evening, the flames were somewhat brought under control, DFS officials had said.
Meanwhile, an inspection team led by Delhi Environment minister Imran Hussain Friday found "serious violations" in norms for dust control at the Pragati Maidan redevelopment site, following which the minister directed pollution control authorities to take strict action, the city government said.
The team undertook a surprise inspection at the ongoing construction sites of ITPO at Pragati Maidan, where a new International Exhibition cum Conventional Centre, Executive Accommodation blocks and a tunnel is being constructed, it said.
"The team found a number of serious violations of dust control measures at the Pragati Maidan redevelopment site, following which the minister directed the Delhi Pollution Control Committee (DPCC) to take strict action against the violating agency," the environment department said in a statement Friday.
A few days ago, Hussain had chaired a multi-stakeholder meet and directed officials to be in "war mode" to combat pollution in the city.
FULL VIDEO:
(With PTI inputs)