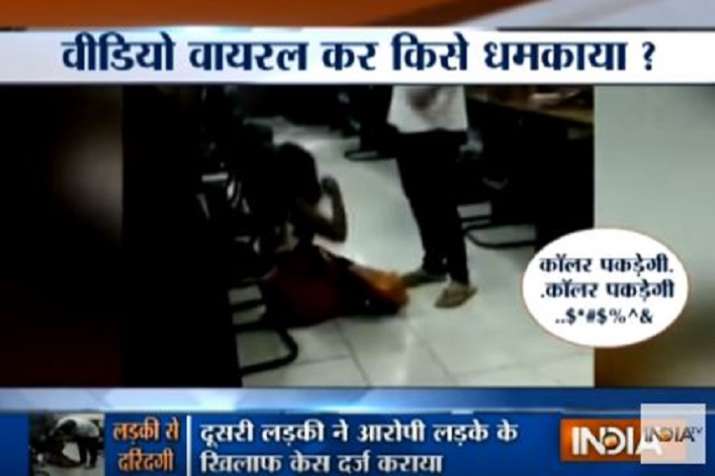 The man seen mercilessly beating up a woman in a viral video was arrested from Delhi's Tilak Nagar area on Thursday afternoon. The man, who has been identified as Rohit Tomar, is a son of a Delhi Police sub-inspector. Tomar was arrested soon after Home Minister Rajnath Singh took note of the horrific video doing the rounds on the social media.
Accused Rohit Tomar has been sent to one-day police remand by the Court.
The girl who is seen as being thrashed in the video, has registered a case of rape at Uttam Nagar police station.
The video showed Rohit Tomar beating, kicking a woman even as she pleaded mercy from him.
"Sorry galti ho gayi...sorry galti ho gayi (I am sorry)," the girl is seen crying for mercy in the video but the man continues to slap and kick her. 
"Collar pakdegi tu ...," the man retorts and continues to assault her, the video shows.
The person recording the entire episode is also heard asking Tomar to let the woman go but to no avail.
Taking note of the case, Home Minister Rajnath Singh directed the Delhi Police to take appropriate action. 
"I have taken note of a video where a youth has been seen severely beating a woman. I have spoken to the Delhi Police Commissioner over the phone and directed him to take necessary action in this regard," Rajnath Singh tweeted.
एक लड़की को एक युवक द्वारा बेरहमी से पीटे जाने का एक वीडियो मेरे संज्ञान में आया है। मैंने @DelhiPolice कमिश्नर से फ़ोन पर इस बारे में बात की है और इस पर उचित कारवाई करने के लिए कहा है।

— राजनाथ सिंह (@rajnathsingh) September 14, 2018
A case under section 354/506 IPC was registered against Rohit Tomar, a tweet by DCP West Delhi said. Police said the video was shot on September 2 in Uttam Nagar.
WATCH: Viral video of Delhi cop's son assaulting a woman