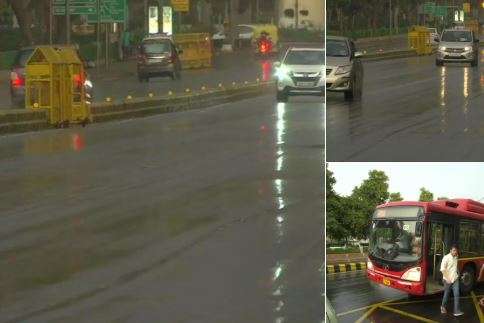 Things just turned pleasant for Delhiites as the weather took an unusual turn on Saturday, giving residents the much-needed respite from soaring temperature. The national capital recorded a maximum of 39.2 degrees Celsius even as some parts of the south and central Delhi recorded light rains.
According to a MeT department official, the minimum temperature was recorded at 20 degrees Celsius. The relative humidity was 87 per cent.
Light showers lash parts of Delhi; Visuals from South Avenue area pic.twitter.com/rNItRbnhpv

— ANI (@ANI) March 30, 2019
Delhi via @aeroweather Wind: 280° (W) at 19 knots, gusting to 29 knots; Visibility 2500 m; Weather: light thunderstorm with rain; Clouds: scattered clouds at 4000 feet , few clouds at 4000 feet (cumulonimbus), overcast ⚡️⚡️⚡️🌩🌩🌩 pic.twitter.com/m5Xre1QJTl

— Mohit Dhar Jayal (@mohitjayal) March 30, 2019
Last rain of the season. #Monsoon at least 4 months from now. #Delhi pic.twitter.com/R7oXLJwbe9

— Ignace (@IgnaceDelhi) March 30, 2019
#Delhi #Rain #Nature pic.twitter.com/esz5M72fiM

— Nikhil Chaudhary (@NCBirbhan) March 30, 2019
On Friday, the maximum temperature was recorded at 36 degrees Celsius while the minimum settled at 18.6 degrees Celsius.