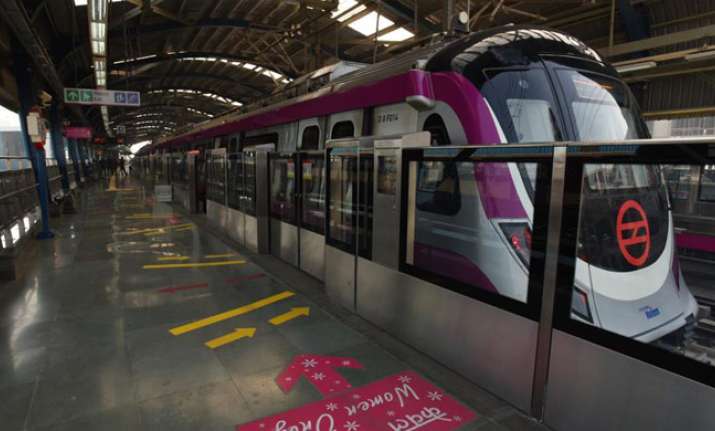 Tight security is in place for Prime Minister Narendra Modi and Chef Minister Yogi Adityanath's visit to Noida on Monday to inaugurate Delhi Metro's Magenta Line. 
Modi will also address a public meeting in Noida. The elite Special Protection Group, which provides security to the prime minister, has taken control of the premises.
Provincial Armed Constabulary and paramilitary forces are part of the security at the venue. The area has been divided into 15 zones and an officer for each has been appointed.
Aerial surveillance will be conducted with the help of helicopters, for which three helipads have been made at Botanical Garden.
Also read: PM Modi all praises for Delhi Metro's Magenta Line ahead of inauguration 
Earlier in the day, Modi said that the newly-built Magenta Line is an example of modernising urban transport and making travel between Delhi and Noida faster and convenient.
"This new line is yet another example of how we are modernising urban transportation. I will also travel on the Metro tomorrow (Monday). This year, I have had the opportunity to inaugurate and travel in the Kochi as well as Hyderabad Metros," Modi tweeted.
In another tweet, he said: "Great news for friends in the NCR! Tomorrow, a stretch of the new Magenta Line will be inaugurated... Delhi-Noida travel will become faster and more convenient."
The Botanical Garden-Kalkaji section has nine stations. Apart from Kalkaji Mandir, all other stations are elevated. Travel time between the two will be reduced from 52 minutes (Botanical Garden to Mandi House via Blue Line and onwards to Kalkaji on Violet Line) to 19 minutes on the Magenta Line.
Also read: Delhi Metro's Magenta Line connecting Kalkaji to Noida: PSDs, hi-tech signalling and many more firsts | 15 Key Highlights