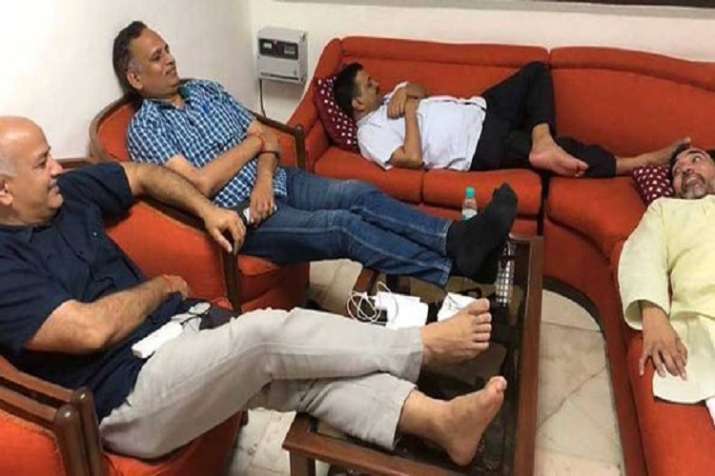 Delhi High Court on Monday questioned Chief Minister Arvind Kejriwal's sit-in at lieutenant governor's office. Hearing a plea filed by  BJP MLA Vijender Gupta, the court asked the Delhi government's lawyer if the Delhi CM had permission to hold the protest at the LG's office and observed that strikes are usually held outside an establishment or office and not inside. 
The observation by a bench of Justices AK Chawla and Navin Chawla came during the hearing of two petitions, one against the sit-in by Aam Aadmi Party leader Kejriwal and the other against the alleged strike by the IAS officers of Delhi government. "Who authorised the strike/dharna (sit-in by Kejriwal)? You are sitting inside the LG's office. If it's a strike, it has to be outside the office," the court told lawyers appearing for the Delhi government in the two matters.
The Delhi government's lawyer told the high court that Delhi CM had gone to meet LG Anil Baijal, when he did not cooperate they decided to stage sit-in protest. The court took exception to the explanation and said that this was no way and you cannot sit-in at anyone's office without their permission.
The pleas to end Kejriwal's strike have been filed by Advocate Harinath, former AAP leader Kapil Mishra and BJP MLA Vijender Gupta. 
The court said that the association representating IAS officer should also be made a party to the case. AAP party is staging protest to demand an end to a 'strike' by IAS officer. Talking to media yesterday, the civil servants denied that they were on strike and alleged that the elected government in Delhi was using them as a political tool. 
The matters are likely to be heard on June 22. 
Meanwhile, Aam Aadmi Party is scheduled to hold a key meeting at CM Arvind Kejriwal's residence at 12 pm.
(With inputs from PTI)
Also read | Delhi: CM Kejriwal urges IAS officers to stop boycott of elected government, assures security
Watch video: