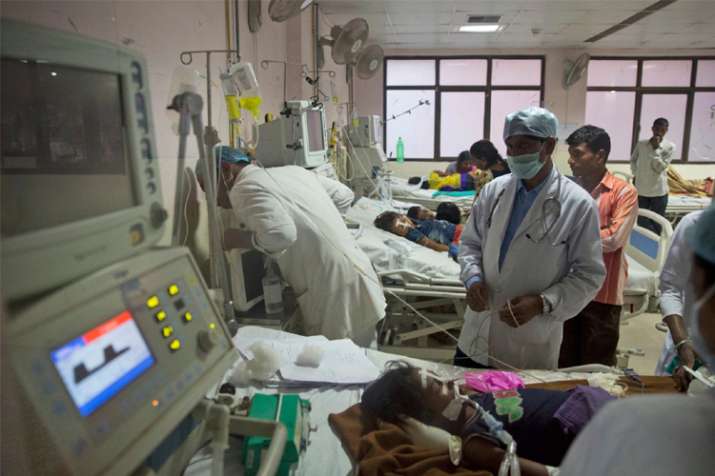 A draft advisory proposed by the Delhi government has directed that private hospitals in the national capital "cannot hold hostage" bodies of patients over non-payment of bills by their families before the last rites. 
The draft policy, however, also came up with the proposal of bill reduction in case of death of patients in less than 24 hours from time of admission in the hospital.
"If a patient dies in the emergency room or casualty department of the hospital, within six hours of his/her arrival, then the hospital shall waive 50 per cent of the total bill, and in case of 24 hours, 20 per cent of the bill should be waived," Delhi health minister Satyender Jain told reporters on Monday. 
Jain said, "Body of any deceased patient cannot be forcibly withheld by a hospital and denied to the family for want of payment of due bills. There has to be dignity in death. A body cannot be held hostage just for bills. After death, a body belongs to the society, and final rites must be performed."
He, however, said the proposal does not imply that the bills would be waived, and hospitals can take legal action in case the payments are not made later by the families.
The draft advisory has been prepared on the basis of recommendations of a nine-member expert panel, headed by Director-General of Health Services Kirti Bhushan, which was set up by the Arvind Kejriwal government on December 13 last year, after allegations of excessive charges and unfair employment practices by a few private facilities were reported. 
"The draft has been put in public domain, inviting suggestions and objections for a period of 30 days. After that, we will implement the policy with revisions," Jain said. 
The minister said that the draft also proposes that doctors at private hospitals and nursing homes should preferably only prescribe drugs from the NLEM (National List of Essential Medicines) list and patients should be consulted before administering drugs in the non-NLEM category. 
The National List of Essential Medicines of India 2011 (NLEM 2011) is a list of medicines, prepared by the Ministry of Health, which are considered essential in India. 
Prices of NLEM drugs have already been fixed by the government and clinical establishments can bill these items based on the MRP. 
NLEM drugs should be the first preference, but in case of other drugs, they should bill those items and consumables at their respective MRP or the sum total of the procurement price and 50 per cent mark up charges or whichever is less, the advisory said. 
"The draft advisory would be implemented by amending the Delhi Nursing Homes Registration Act, 1953, and eventually, it would mean that a private hospital or a nursing home could lose its licence to operate in Delhi, in case it violates these norms," Jain said. 
The advisory also said that any private hospital or nursing home shall not refuse treatment to any patient brought in emergency condition. 
It also has made proposals on surgeries and other medical procedures. 
An additional surgery or procedure performed on the patient should cost only 50 per cent of the original cost. High-risk package (for surgeries) should not cost 20 per cent more than the assigned cost, it said. 
The members of the panel include the then Indian Medical Association president Dr K K Aggarwal, Delhi Medical Council president Dr Arun Gupta, former president of Delhi Medical Association Dr R K Gupta, and experts, and senior bureaucrats. 
As per the advisory, no patient can be forced to buy drugs from in-house pharmacy of a hospital, Jain said.
Salaries and consultation charges disbursed to all employees of the hospital, including doctors, shall not be made in cash for amount of Rs 20,000 or more, and payment shall be done through cheque or banking channel only, otherwise it would be deemed malpractice, he said.
(With PTI inputs)