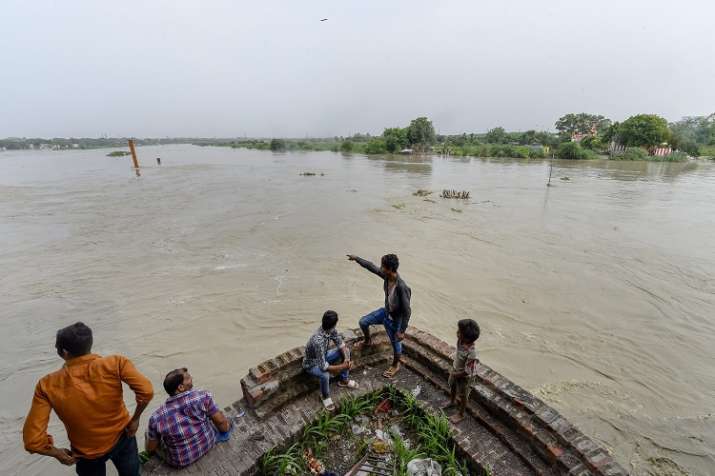 Nearly 10,000 people have been evacuated to safer places as the water level in Yamuna river continues to rise. Delhi Chief Minister Arvind Kejriwal on Monday directed officials to make arrangements for the affected people, as the river flowed at 205.78 metres, with the danger mark being 204.83 metres.
The peak water level is expected to reach 206.50 metres, officials said.
A total of 1,149 tents have been set up to accommodate the evacuated people. So far, 8,635 people are living in these tents. Food and medical help is also being extended to them, he said.
After the chief minister's order, Revenue Minister Kailash Gahlot paid a visit to the affected areas and directed officials to ensure all proper arrangements were made.
Also Read | Delhi: Water-level in Yamuna river continues to rise, CM Kejriwal directs officials to make necessary arrangements
Traffic movement on Old Yamuna Bridge in Delhi was closed on Monday after the water level in the river rose due to rains. The river flowed at 205.5 metres on Monday.
Meanwhile, discharge from the Hathani Kund Barrage between 6 am and 9 pm was 5,13,554 cusecs, with water level expected to rise further.
Amid the crisis, Union Minister Harsh Vardhan hit out at Kejriwal, alleging that there was no advance planning to rehabilitate people affected by rising water level in the river and they were at the "mercy of an insensitive" dispensation.
"People along the Yamuna in Delhi are at the mercy of an insensitive government. As the river is rising above danger mark due to incessant rains, no advance planning in place, not enough shelter for people caught up in flood waters," he said in a tweet.