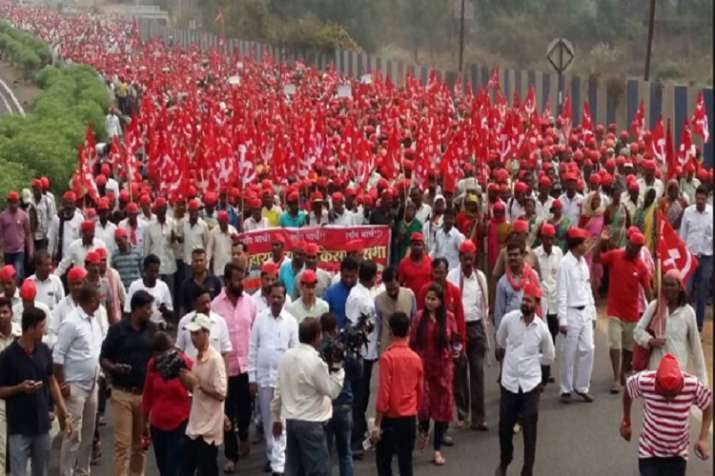 The farmers and workers will hold rally at Ramlila Maidan in Delhi against the 'anti-people' policies of the Centre.
The rally, Mazdoor Kisan Sangharsh March is being organised jointly by CITU, AIKS and AIAWU, organisations and unions affiliated to the Communist Party of India (Marxist).
"This is the first time...after Independence that farmers and workers will jointly participate in a rally against the government," CITU general secretary Tapan Sen told reporters, adding, "And it will not be the last one of our efforts."
"We will announce the second phase of our struggle and war against the government, whose anti-people policies are affecting the poor people of our country. This government is only making policies keeping in mind the interests of the corporate and the rich," Sen said.
Last week, the organisers said they were expecting more than three lakh people from across the country at the rally.
Preparations for the rally had been under way for several days but incessant rain over the last few days threw all that into disarray, damaging the makeshift shelters at Ramlila Maidan, the venue for the protest. However, the thousands of participants who have come from all over the country appeared confident that the rally would be successful in highlighting their issues of concern.
Punik Narayan Rau, 70, has come from Nashik.
Rau said he was part of the "Long March" of farmers from Nashik to Mumbai earlier this year. The march of farmers was led by All India Kisan Sabha and was, among other demands, for proper implementation of Maharashtra government's loan waiver scheme. Rau said he was disappointed with Maharashtra government.
"The BJP government in Maharashtra fooled us. I have come to Delhi to raise my voice against the anti-farmer policies of the Centre. I will not stop till I get the right price for my crops," he said.
Swaroop, 25 and from Kerala, said he had seen more rains in his home state Kerala this monsoon season.
Along with his three friends, he covered the distance on motorbikes.
"Me and my friends travelled from Kerala to Delhi in seven days crossing many states like Karnataka, Tamil Nadu, Telegana, Andhra Pradesh, Maharashtra, Madhya Pradesh and Uttar Pradesh meeting farmers on our way.
"We realised that the state of farmers is seriously bad. We told them that the time has come to raise our voice against the government's policies," Swaroop said.
The farmers and workers, participating in the rally, want remunerative prices for crops as per the Swaminathan Committee recommendations, debt waiver of all farmers and agricultural workers, minimum wage of not less than Rs 18,000 per month for workers.
(With PTI inputs)