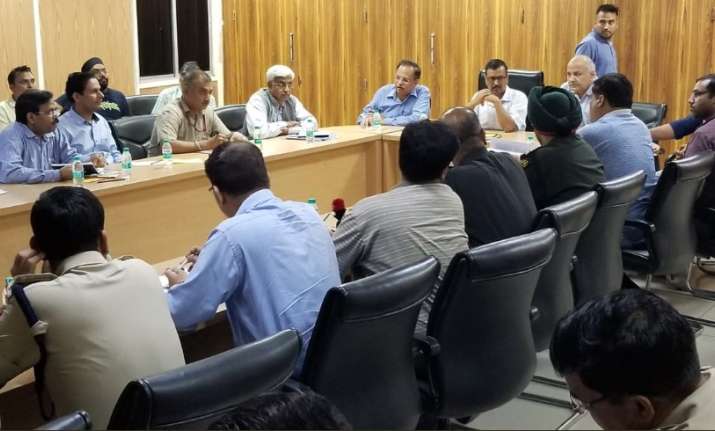 Delhi Chief Minister Arvind Kejriwal held an emergency meeting on Saturday with top officials of his government, including Chief Secretary Anshu Prakash, to take stock of the situation after the Yamuna crossed the danger mark in the state.
The water level reached 205.30 metres at 7 pm on Saturday, prompting authorities here to evacuate people from low-lying areas, officials said.
Kejriwal said all departments have been put on high alert.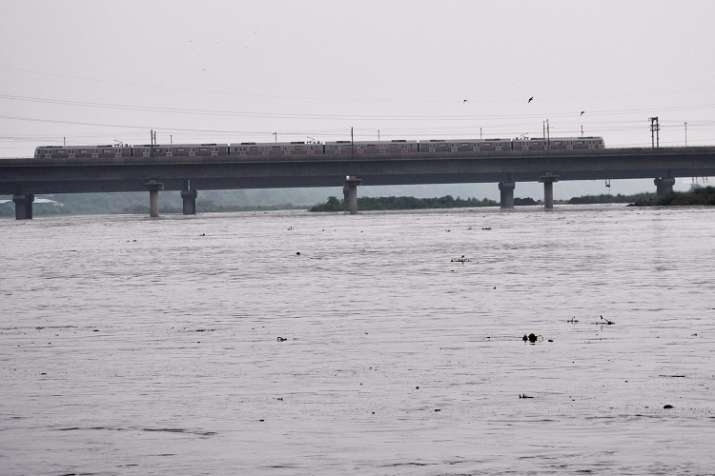 "Haryana has released 5 lakh cusec water. Called an emergency meeting to discuss the situation. This water likely to reach Del by tomo eve. Wherever administration evacuating people, they r requested to cooperate. All depts put on high alert. For any flood related emergency, control room no is 1077 (sic)," he tweeted.
The Yamuna water level at the Hathinikund barrage has crossed the danger mark of 90,000 cusec and till 7 pm, 5,63,186 cusec of water was released.
The water level of the Yamuna river at the Old Delhi Railway Bridge rose to 205.30 metres by 7 pm and is expected to rise even further, an official said.
"The water level of river Yamuna at Delhi Old Rly Bridge reached at 204.92 metres at 7 am on July 28 (above the warning level) and having rising trend," a statement issued in the morning had said.
An alert was sounded on Friday by the Delhi government after the water level of the Yamuna crossed the danger mark, an official said.
"All executive engineers/sector officers are directed to keep in close contact with the control room in relation to the discharge, water level at the Old Railway Bridge and the advisory or forecast from the Central Water Commission/MET, and requested to take appropriate measures/steps accordingly to avoid flood-like situation," an advisory from the authorities said.
"The CWC, Upper Yamuna Division, New Delhi has issued flood forecast for the Delhi Railway Bridge (North Delhi Dt NCT, Delhi). The water level of river Yamuna at Delhi Rly Bridge was 205 metres at 9 am on July 28 (warning level 204.00 m)," the advisory said.
Meanwhile, the weather department has predicted 'heavy to very heavy rainfall' in entire north India in the next couple of days which could result in further swelling of rivers in the region. 
With a flood threat looming, authorities on Saturday began to evacuate hundreds of persons affected by the rising water level, officials said.
The Yamuna passes through Yamunanagar, Karnal and Panipat districts in Haryana before entering Delhi.
Yamunanagar Deputy Commissioner Girish Arora said a high alert was declared in the district in the morning.
He said the Army has been put on alert along with a team of the National Disaster Management Authority.
However, there was no report of any damage to property or a loss of life in Yamunanagar district.
The Met Department in Chandigarh predicted that hill states in Haryana's neighbourhood will continue to experience heavy rains.
WATCH VIDEO: