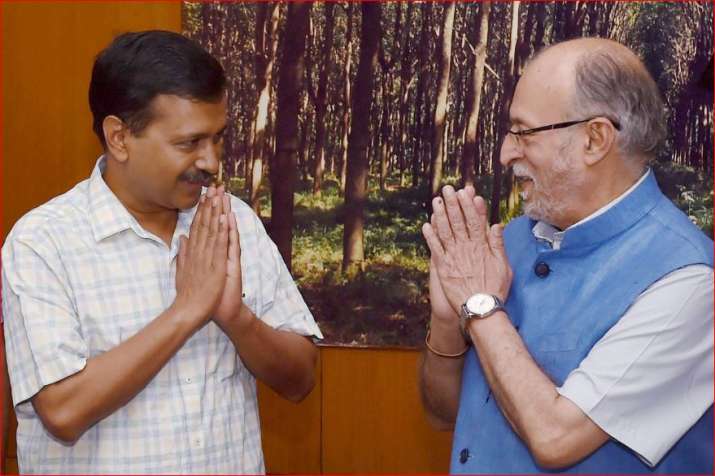 Delhi Chief Minister Arvind Kejriwal and his deputy Manish Sisodia will meet Lt Governor Anil Baijal on Friday to discuss the Supreme Court verdict that clipped the power of the L-G.
Kejriwal will be meeting Baijal for the first time after the apex court delivered order on power tussle between the Delhi government and the Centre. 
This will be the first meeting between the chief minister and the lieutenant governor after the apex court order on power tussle between the Delhi government and the Centre. 
"The chief minister and the deputy chief minister will meet the L-G tomorrow to discuss the SC verdict," an official said. 
Earlier in the day, Kejriwal sought a time from Baijal to discuss the situation arising out of the apex court order. 
Meanwhile, relationship between the AAP dispensation and bureaucrats strained further today over its transfer and posting order, with Kejriwal warning officers of "serious consequences" if they did not comply with the city government's directive on transfers and postings. 
The Delhi government also explored legal options, including filing contempt petition, against those who refused to comply with the directive, an official said.
 
Hours after the Supreme Court's landmark judgement yesterday, the government introduced a new system for transfer and postings of bureaucrats, making the chief minister the approving authority. 
However the services department refused to comply, saying the apex court did not abolish the May 21, 2015, notification of the Ministry of Home Affairs, according to which services matter lies with the lieutenant governor. 
The Supreme Court in its landmark judgement yesterday had said the L-G is bound by the elected government's advice and cannot be an "obstructionist".
Watch: Delhi CM Arvind Kejriwal to meet L-G tomorrow