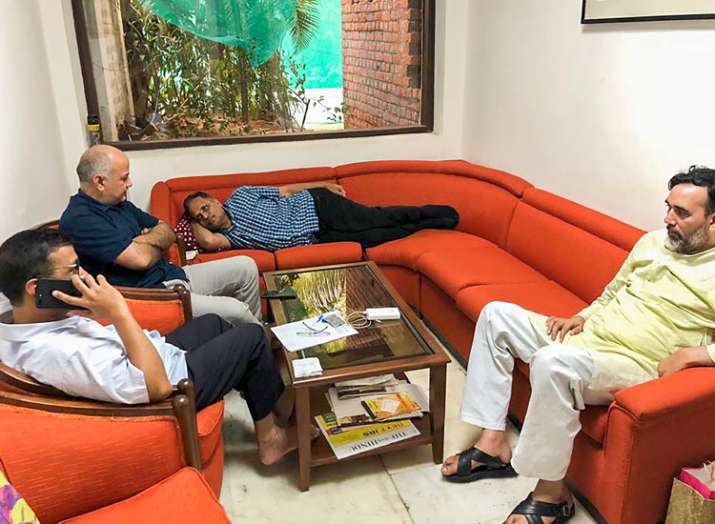 Delhi Chief Minister Arvind Kejriwal started the fourth day of his sit-in at the Lieutenant General's office shooting off a letter to PM  Narendra Modi urging him to help end the IAS officers' strike in the national capital. Kejriwal along with his cabinet colleagues Satyendar Jain, Manish Sisodia, Gopal Rai had gone to meet L-G Anil Baijal at his office on Monday. The CM and his colleagues have not left L-G's office since then. Sisodia and Jain have started an indefinite hunger strike demanding an early redressal of their grievances by the L-G.
In his letter to PM Modi, Kejriwal cited instances when the government work was stuck as the officers have not been attending meetings with ministers for the past three months. He said cleaning of drains before monsoon, setting up of mohalla clinics and measures to curb air pollution in Delhi are stuck because of the alleged strike by the IAS officers. 
He said no meeting has taken place between IAS officers and ministers for the past three months to address the issue of air pollution, even as toxic pollutants in the air reached to dangerous levels over the past three days.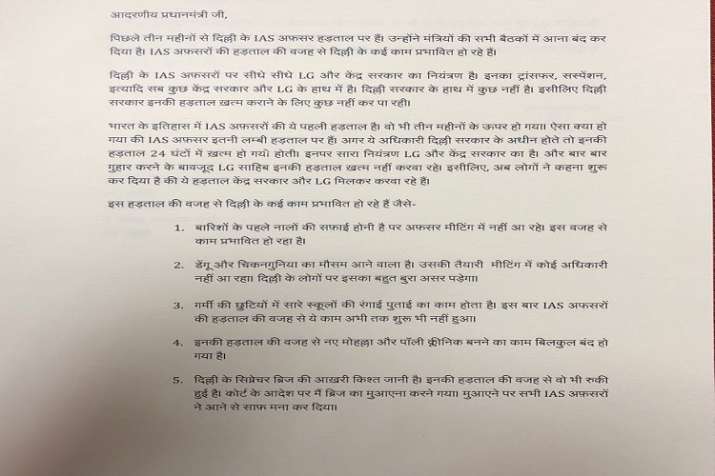 "Due to strike, several works are being affected. As L-G is doing nothing to end IAS officers' strike, Delhi government and the people of Delhi request you (PM) with folded hands to get the strike called off immediately so that works of Delhi can resume," Kejriwal said in his letter. 
Kejriwal has said they will not leave the L-G office until their demands are met. The Aam Aadmi Party (AAP) has threatened to stage a "dharna" at the Prime Minister's Office on Sunday, June 17, if a solution to the issue was not found this week. 
Meanwhile, former Delhi minister and rebel AAP leader Kapil Mishra took a dig at Kejriwal's sit-in at L-G office and advised him to change his clothes.
आदरणीय CM साहब,

1. सबसे पहले आप कपडे बदल लो, ऐसे ही पड़े रहे तो कहीं कोई इन्फेक्शन हो जाएगा

ये मत कहना मोदी जी कपड़ें नहीं बदलने दे रहे

2. दिल्ली में कोई हड़ताल नहीं हैं
3. राशन की फ़ाइल AAP के मंत्री के पास हैं

सारी दुनिया जानती हैं -

आप आज झूठ बोलोगे - कल माफ़ी माँग लोगे https://t.co/BJWy670cIt

— Kapil Mishra (@KapilMishra_IND) June 14, 2018
"Respected CM Sir, first of all please change your clothes otherwise you will get some infection. Don't say that Modiji is not letting you change clothes," Mishra said in his tweet in Hindi.
Watch: Kejriwal's 'dharna' politics continues in Delhi