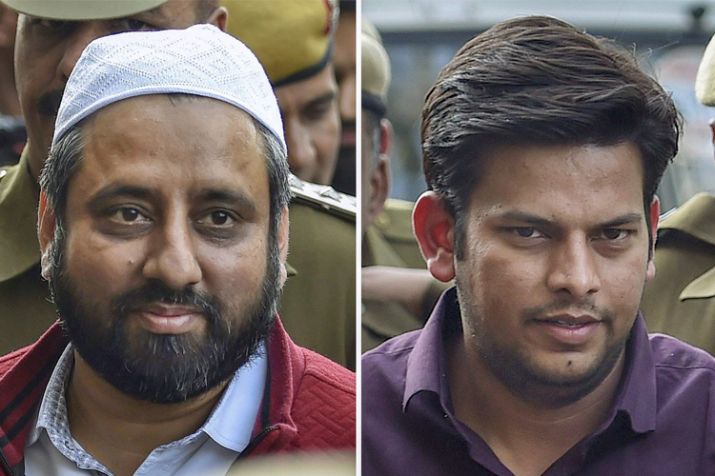 The Delhi-based Tees Hazari court on Thursday sent the two Aam Aadmi Party MLAs -- Amanatullah Khan and Prakash Jarwal -- to judicial custody for 14 days, while postponing the matter of their bail hearing till tomorrow. The two leaders were arrested on charges of assaulting Delhi Chief Secretary Anshu Prakash. 
Highlights of the court hearing on bail plea of 2 AAP MLAs
Watch video: Court sends AAP MLAs Amanatullah, Jarwal to 14-day judicial custody
05:35 pm: Court sends Amanatullah, Jarwal to 14 days judicial custody, court to reconvene on the matter tomorrow at 3pm. 
05:25 pm: Additional DCP to the court: I accompanied CS to the hospital medical test. I have seen his mistakes.
05:10 pm: Chief Secy's lawyer reads his statement to the court: The accused is MLA. The witness to the incident is already known to the court. Bureaucracy works under them. He was told that the discussion will be about civil services. But there were 11 MLAs present. A Minster is head of the department. Bureaucracy answers to the minister. We only give suggestions to the ministers. In matters related to the TV ad, we suggested the minsters to follow SC orders. If I had approved the funds then the next government would have launched a CBI enquiry on me. You called me under false pretenses. CM did not stop them. Why there has been no statement by the CM. First Deputy CM called me then VK Jain. They had called me there to beat me up. They wanted to show muscle power to get funds. There were two meetings in the secretariat that day, why did they not discuss these matters there. 
05:00 pm: Delhi Police lawyer in court: You are saying that Jarwal was beaten up in custody, why did you not inform the court about it yesterday?
04:55 pm: Delhi Police lawyer in court: 8 cases registered against Amanatullah Khan, 5 against Jarwal.
Cases on Prakash Jarwal include: 
an old case when Jarwal slapped a JE of Jal Board. He was not agitated. 
In 2013, a case was registered in Ambedkar Nagar against for slapping a SI. 
Cases on Amanatullah Khan include: 
In 2010, he had beaten a labour inspector during rescuing workers of Bachpan Bachao Andolan. 
His sister-in-law had filed a case against him for allegedly beating her.
04:50 pm: MLA's Lawyer: Why were other MLAs not called for the investigation even after the Delhi Police mentioned that it will to do in the court yesterday
04:49 pm: MLAs' lawyer: The accused are not hardcore criminals, but legislators. They should be granted bail. 
04:40 pm: MLAs' lawyer: No incident took place within seven minutes eight seconds. MLC was done after a long time had passed. FIR did not mention Prakash Jarwal and yet he was arrested. 
04:35 pm: Delhi Police's lawyer: It's possible that the list being produced by the defence laywer is incorrect. 
04:30 pm: MLAs' lawyer in court: I oppose police custody. There is nothing new in the case. VK Jain's statement was also recorded yesterday but was not produced. Delhi Police officials are lying. Is Delhi Chief Secretary illetrate? Why did he not mention CCTV footage in the complaint. In the sitting arrangement, no one asked him to sit on the floor. Bail hearing should only consider contents of the FIR. Under the applicable IPC section, the punishment is less than three years. 
04:20 pm: VK Jain's statement under Sec 161: I have seen two MLAs beating CS
"When I came back in room, I saw the two accused legislators beating CS. Chief Secy's spectacles had falled down and then he left the room."
VK Jain's statement names seven MLAs
04:15 pm: Chief Secy's lawyer: TV ads on three years achievement had to be published. Ads said that corruption level has been brought to zero level, on which vigilance department raised an objection. That is why the complainant refused to release the funds. 
#CS was called to the meeting under a scheme. He was told that meeting is about civil supply but it was only about TV ads funds. 
#When CS was asked to attend the meeting he was told there would only be four people - CM, Deputy CM, VK Jain and CS. But when he got there, he was made to sit between two accused MLAs who starting hitting him. 
04:12 pm: Additional DCP in court: Chief Minister, Deputy Chief Minister and 11 MLAs were present at the meeting. The complainant was asked to attend the meeting at 8.31 pm. There was no need to call a meeting at midnight. As soon as the meeting started, MLAs started shouting why the funds for TV ads not being released. They started manhandling the complainant. 
04:07 pm: Delhi police lawyer: VK Jain asked Chief Secretary to come for the meeting. VK Jain left his house in Maharani Bagh at 11:30pm and reached CM residence 12 am. Chief Secy also reached at 12. However, the MLAs had yesterday said that the incident took place between 11:24 pm and 11:31 pm.
04:03 pm: Police refiles the application for police custody
04:00 pm: Delhi Police produces VK Jain as the witness as proceedings resume
03:50 pm: Delhi Chief Minister's adviser VK Jain has recorded his statement under Section 164. He is expected to take the witness stand after the proceedings resume. 
03:40 pm: Judge grants 30 mins to Delhi Police for preparing fresh arguments.
03:30 pm: Delhi Police's lawyer had said that there are five cases against Amanatullah Khan, but today he said there are additional cases. Thus, the Delhi Police requested additional time to start the hearing. One witness has recorded the statement under Section 164. While AAP MLAs' lawyer BS June argued that if the prosecution has any additional facts they should present it now. 
This came after the Chief Secretary alleged that he was beaten up by the two MLAs in the presence of Arvind Kejriwal at the Chief Minister's residence on Monday night, where he had been called for a meeting.
Also read: AAP workers protest at Rajnath Singh's residence; MLA Ajay Dutt, others taken into custody
On Tuesday, Delhi Environment Minister Imran Hussain was manhandled at the Delhi Secretariat by a crowd protesting against the alleged assault and his Personal Secretary Himanshu Singh was beaten up, according to multiple video clips from the Secretariat.
Medical examination reports on Wednesday revealed injuries both on the Chief Secretary and the Minister's aide. 
The Chief Secretary paid a visit to the Prime Minister's Office on Wednesday evening but did not brief on what transpired in the meeting at the PMO. 
The alleged assault on the top bureaucrat triggered a political storm on Tuesday, with the opposition Bharatiya Janata Party (BJP) demanding Kejriwal's resignation and the Congress seeking his apology.
Also read | Bureaucrats decide to boycott meetings called by Kejriwal, his ministers
The AAP hit back by accusing the Chief Secretary of making false allegations and said he was working at the "behest of the BJP".
The Home Ministry sought a report from Lt Governor Anil Baijal as Union Home Minister Rajnath Singh said he was "deeply pained" by the development. The L-G has since submitted a report on the issue to the Home Ministry.
(With inputs from agencies)