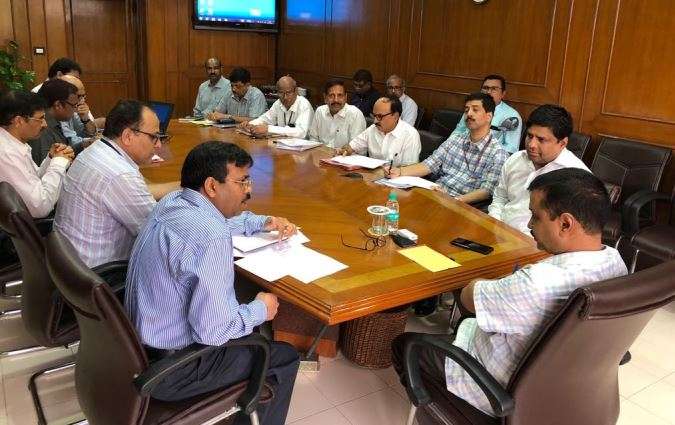 Delhi Chief Minister Arvind Kejriwal chaired a meeting of Delhi Jal Board (DJB), on Thursday. He took stock of water projects and sought a daily report from Friday onwards on the problems, actions, solutions and timeline of the solutions.
It may be recalled that on Tuesday Kejriwal broke his fast and consequently the stand-off between the Aam Aadmi Party (AAP) government and IAS officers in Delhi ended. 
The move came after Lieutenant Governor Anil Baijal shot off a letter to the chief minister, asking him to meet officers urgently to address concerns of both sides. 
The chief minister termed it as a "small victory" while vowing to keep fighting for Delhi's statehood. 
"If the LG has prompted the strike by the IAS officers, it is very unfortunate. It is a small victory. Ninety-nine per cent of the IAS officers are very good. We have done a lot in power and water sectors and we could not have done this alone," he told the party workers, reported PTI. 
"But some officers in private told us that they were being pressurised not to work with the Aam Aadmi Party (AAP) government. We were silent for the last four months over the IAS officers' strike. But we wanted to resolve the issue. That is why we felt that the matter should be brought before the public. The battle for Delhi's statehood will continue," Kejriwal further said. 
Commenting on the entire situation Delhi Congress chief Ajay Maken tweeted, "Now that the entire country is discussing Kashmir development-Kejriwal and BJP leaders of Delhi thought that sitting on Dharna will not be adequately covered by the media. Both decided to wind up their Dharnas!" 
After the alleged assault on Chief Secretary Anshu Prakash by some AAP MLAs, the IAS officers had gone public to express their apprehensions about safety. The incident had happened in February. 
Delhi CM also got the support of four chief ministers -- Mamata Banerjee (West Bengal), Chandrababu Naidu (Andhra Pradesh), H D Kumaraswamy (Karnataka) and Pinarayi Vijayan (Kerala). They went to the AAP leader's residence after they were denied a meeting with him by Baijal at his office.