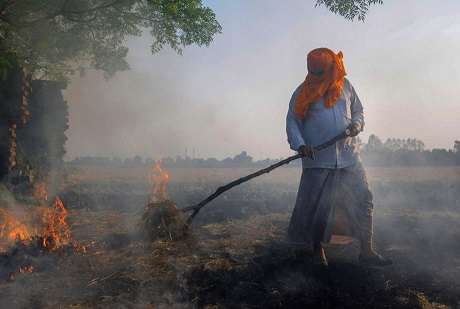 Delhi's air quality has been deteriorating with increase in cases of stubble burning of the harvested paddy crop in neighbouring states Punjab and Haryana despite official strictures.
Despite threats of action -- including registration of legal cases -- as well as incentives in the form of subsidies for machines and equipment and awareness campaigns, farmers in north India continue to go in for the "quicker" option of getting rid of the crop residue to get their fields ready for the next crop.
The residue burning chokes the whole of north India during the winter months (November to January) with heavy smog over the region. National capital Delhi and nearby areas are the worst affected by the smog.
Highest pollution levels were recorded in Delhi's Mundka and India Gate area on Friday, with Air Quality Index hovering around 299 and 295 in both the areas respectively. 
Pollution level in Jahangirpuri was recorded at 259, 255 in Rohini, 249 in Bawana, 235 in Anand Vihar, 215 in Punjabi Bagh, 202 in RK Puram, 263 in Tughlakabad. 
The situation in the national capital remains sensitive as Diwali is approaching, a time when the pollution levels further go up due to fireworks leading to risks for people's respiratory systems too.
Paddy is grown over 65 lakh acres in Punjab. After harvesting, over 20 million tonnes of paddy, straw is left in the fields to be managed by farmers before sowing the next rabi crops (wheat and others). It is estimated that 15 million tonnes of paddy straw is burnt by farmers for early and easy clearance of the fields.
Punjab alone contributes 65 per cent of the total residue produced by the northwestern states.
12 farmers fined for burning crop residue in Haryana's Hisar
Twelve farmers were fined for burning crop residue in Haryana's Hisar district. The Haryana State Pollution Control Board has got a case registered against one farmer and recovered Rs 45,000 as fine from 12 farmers for burning crop residue in Hisar, it said.
Burning of crop residue is not allowed in Haryana as it leads to environmental pollution.
Last year, 122 cases were registered against those found burning crop residue during the paddy season. The Haryana Space Applications Centre in Haryana's Agricultural University campus in Hisar has been monitoring the entire state through satellite imagery.
If any incident of crop residue burning takes places in any area, it would come to the notice and a team of the Pollution Control Board would get a case registered against the guilty after carrying out physical verification of the area, a statement said.
Haryana's Agriculture and Farmers' Welfare Department has been providing different agricultural implements for crop residue management at subsidy of 50 to 80 per cent. Instead of burning the crop residue, the farmers can mix it in the soil to improve fertility, it added.
"Burning of crop residue not only causes environmental pollution, but also affect animals, birds and human beings," the statement said.
It said for crop residue management, the farmers can contact the agriculture development officer concerned in their respective districts. Apart from this, the government has also been organising awareness camps on crop residue management, it added.
Another official statement said stubble burning cases have reduced considerably during the current paddy harvesting season in Haryana.
Till October 10, the crop had been harvested on 4.01 lakh hectares and there had been arrival of 20 lakh tonnes of paddy in various mandis (marketing places) of the state, it said.
"As per satellite data furnished by the HARSAC, there had been burning of paddy stubble only at 459 places involving an area of 735 hectares. This was less than one per cent of the total area where harvesting had taken place," the statement said.
"These positive results were the outcome of the massive information and education campaign undertaken by the various government agencies," it added. 
Watch Full Video: