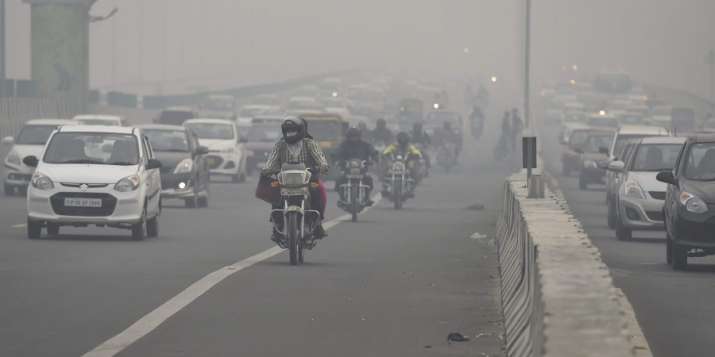 There seems to be no end to pollution woes in Delhi and the National Capital Region (NCR) as the air quality was recorded as "severe" even on Monday.
The minimum temperature recorded at 13.4 degrees Celsius, the season's average, the Met office said.
"The sky will be clear with mist in the early part of the day," an India Meteorological Department (IMD) official said.
The air-quality across the NCR remained "severe", according to the System of Air Quality and Weather Forecasting And Research (SAFAR).
The humidity at 8.30 a.m. was 90 per cent. The maximum temperature was likely to hover around 31 degrees Celsius.
Sunday's maximum temperature settled at 31.4 degrees Celsius, three notches above the season's average while the minimum temperature was recorded at 12.4 degrees Celsius, two notches below the season's average.
Delhi's air quality oscillated between very poor and severe categories on Sunday as pollutants released in the atmosphere due to bursting of firecrackers got trapped due to slow surface winds, authorities said.
The overall air quality index was recorded at 397, which falls in the very poor category, according to the Central Pollution Control Board data.
The Centre-run System of Air Quality and Weather Forecasting (SAFAR) recorded the AQI at 419, which falls in the severe category.
On Sunday, the PM2.5 (particles in the air with a diameter of less than 2.5 micrometres) level was recorded at 271, while the PM10 level was recorded at 440 in Delhi, according to CPCB.
An AQI between 301 and 400 is "very poor", and 401 and 500 is "severe".
Satellite images by SAFAR showed moderate stubble burning fire count that is contributing to 13 per cent pollution in Delhi.
According to the Indian Institute of Tropical Meteorology, the increase in PM2.5 concentration is due to stable meteorological conditions trapping of the pollutants in Delhi (very less dispersion) and significant increase in contribution from stubble burning.
Stubble burning in neighbouring states of Delhi on Thursday was the "largest-ever recorded" this year, the IITM had said Friday, adding that it could lead to a further deterioration in the already "severe" air quality of the national capital.
It said about 2,100 fire counts were observed on Thursday over north western region of India.