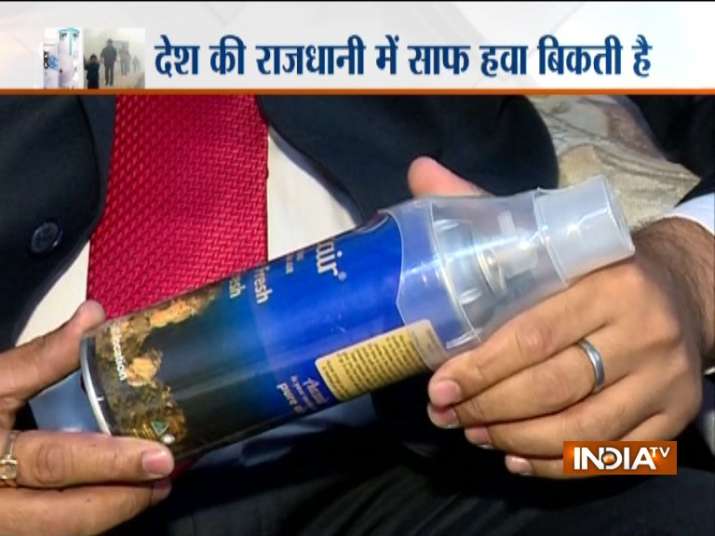 The deteriorating air quality in Delhi has created massive opportunity for canned 'pure and clean' air vendors to exploit the existing condition in the national capital. 
Believe it or not, now even clean air is being sold in the national capital for a hefty amount. If you are a Delhiite and you want to breathe "pure and clean" air then you will have to cough up  a substantive amount for fulfilling your wish.
You will have to pay for each and every breath and the cost would be around Rs 3.5 per breath of "pure and clean" air. 
The deteriorating air quality has provided a momentum to the business of "pure and clean" air. The air is not "fresh" but claims are being made of it being "pure and clean". The "pure and clean" air of Australia's Blue Mountain is now available in Delhi.
Online shopping websites are selling different brands of "pure and clean" air in different price ranges and they are doing brisk business. The price varies from Rs 500 to Rs 2,500 per can.  You can breathe 108 times with a can of Rs 500.  
According to our correspondent, though the business is gaining ground in Delhi, there is no proper shop in the national capital that sells these "pure and clean air" cans.
Those who are dealing with these cans are selling them from their own homes. They have stocked these cans in their homes and are selling them through online shopping portals. 
However, the doctors point out that these cans are "useless" as they don't offer permanent solution. The doctors have a point because a person breathes 15-20 times per minute. It means that we can breathe 160 times using a can of "pure and clean" air. However, by this yardstick, a person will consume a can of Rs 500 within eight minutes. What will happen after that?
According to AIIMS Director Randeep Guleria, canned air is not a solution for tackling deteriorating air quality. 
Dr Guleria said that canned air, air purifying plants, air purifiers, air filters are all temporary solutions.  He added that there is only one permanent solution to the problem  and that is to plant more and more trees. 
Watch: Deteriorating air quality triggers sale of canned 'pure and clean' air in Delhi