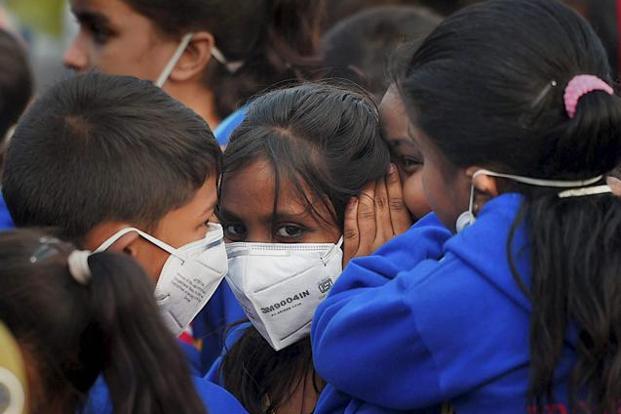 As Delhi plummets on the Air Quality Index, the Central Pollution Control Board (CPCB) has decided to implement Supreme Court-mandated emergency action plan, which will aim to control the pollution in the national capital through a step-by-step plan know as GRAP. 
Air Quality Index for Delhi today 
PM 2.5 - 168 (moderate) 
PM 10 - 224 (poor) 
Hazard advisory: Everyone may begin to experience health effects when AQI values are between 151 and 200. Members of sensitive groups may experience more serious health effects.
According to the latest AQI data, major pollutants PM 2.5 is at 168 (moderate) and PM 10 at 224 (poor) in #Delhi's Lodhi Road area. pic.twitter.com/Z5cTQeqsqx

— ANI (@ANI) October 15, 2018
What is GRAP?
A Graded Response Action Plan or GRAP is a set of stratified actions that are taken once the pollution level reaches a certain specified limit. The Supreme Court had mandated the Environmental Pollution Control Authority (EPCA) to come up with such a plan. The Union Environment Ministry has recently announced this plan for Delhi and National Capital Region.
Also read | Delhi braces to battle 'poor' air quality with emergency action plan today, Central Pollution Board deploys 41 teams across NCR
How does GRAP work?
There are several limits specified under the plan. The limits are that of the pollution level or more specifically the concentration of Particulate Matter. When the concentration reaches a certain limit say, 100 micrograms per cubic metre of Particulate Matter, several steps to control pollution has to start, like water sprinkling on the roads, sweeping roads more often, etc. 
When the pollutant concentration reaches a little higher level, there can be a ban imposed on firecrackers, and other fuel use, etc. 
It is the task of the Environmental Pollution Control Authority to find out the particulate matter levels in each state by the help of a task force. Then a proper scrutiny is done regarding the concentration levels. If it reaches the specified limit in any state, the Environmental Pollution Control Authority orders various departments to start functioning in order to control these levels.
The various departments , including transport department, public works department, are given a set of various tasks beforehand. The main objective of the plan is to avoid strict pollution control measures all of a sudden and respond to the problem gradually.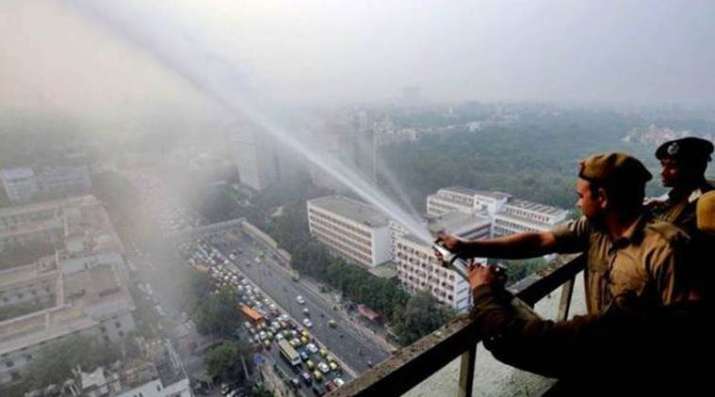 Also read | Pollution alert over north India: Anti-stubble burning moves go up in smoke in Punjab, Haryana
How will emergency pollution control be implemented in Delhi? 
Currently the air quality is in the poor category but authorities have predicted that it would reach the 'very poor' category in the next couple of days. Starting Monday, October 15, GRAP will be in action in Delhi, which means: 
If the air quality lies in moderate to poor category- measures like stopping garbage burning in landfills and other places, and enforcing all pollution control regulations in brick kilns and industries would be implemented.
If the air quality falls in the very poor category, additional measures of stopping use of diesel generator sets, enhancing parking fees 3-4 times and increasing frequency of metro and buses would be implemented.
If the air quality falls in the severe category, additional measures would be implemented of increasing frequency of mechanised cleaning of roads, sprinkling of water on roads and identifying road stretches with high dust generation. 
If the air quality falls to severe plus emergency category, then measures like stopping entry of trucks into Delhi (except essential commodities), stopping construction activities and appointment of task force to take decision on any additional steps, including shutting of schools, are implemented.
How is pollution level determined? 
Under the CPCB plan, all the concerned departments have been given the charge of collecting information on pollution data. Additionally, the board has also deployed 41 teams across the Delhi NCR to monitor proper implementation of norms enforced to prevent pollution at the source. 
Till October 11, 96 inspections were conducted by the teams across Delhi NCR and the inspections would intensify in the coming days, a senior CPCB official informed media on Saturday. 
The inspections was started by the two-member team on September 15, he added.
Meanwhile, satellite images from the NASA showed rampant stubble burning activity in Uttar Pradesh, Punjab and Haryana.

How will implementation of GRAP affect your daily lives? 
#No diesel generators: In case you rely on diesel generators for electricity back up at your work or residence then you will have to say good bye to the luxury for a few days or switch to greener options. The ban will also affect marriage and other public functions, which heavily rely on this option for electricity. 
#Increased parking fare: The pollution curb plan aims to discourage the use of private vehicles to curb single use vehicles on the road. But if you still want to use your car, then you may will have to fork out three-to-four times the parking fee. 
#Limited commodities; If the pollution levels continued to rise beyond control, then the board may ban entry of trucks bringing in goods, except essential commodities, which may affect festival shopping. 
#Educational institutions: Higher pollution levels could lead to temporary closer of schools and other educational institutions. Going by the records of past couple of years, some offices also choose to allow work from home to their employees to ensure less exposure to smog. 
Also read | As Delhi air worsens, docs ask traffic cops to wear pollution masks during duty
What can you do help? 
#Use public transport or taxi: Avoid using personal vehicle to work. If you must, then try to pool the ride to ensure lesser carbon footprint. 
#No new construction: Avoid starting new building or reconstruction projects as the debris adds dust particles in the air which do not settle down easily. 
#No leave burning: Autumn season can lead to a serious leaves menace. But at no time should you burn those leaves, because it seriously adds to pollution levels apart form being illegal. 
#Switch to green energy back ups: Do not use diesel-based generators for emergency energy needs. Instead install solar panel or solar energy equipments, which are available at a subsidised rates in the national capital. Even back up battery-based inverters are a better option than petroleum based ones.