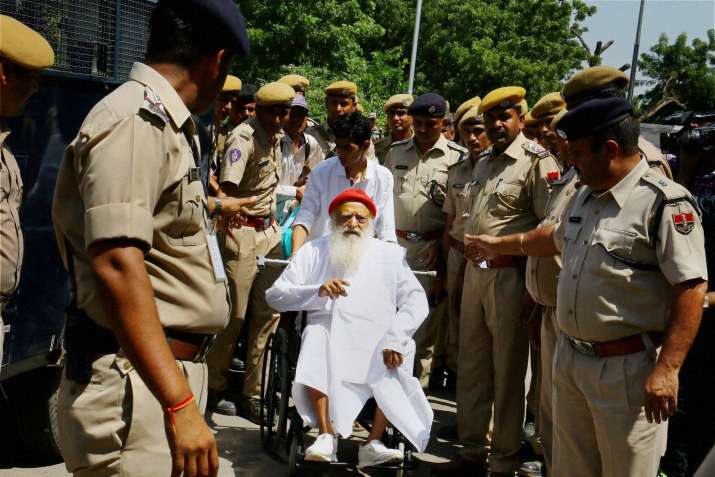 Passengers aboard a Jet Airways Jodhpur-Delhi flight on Sunday went through a terrible flying experience, thanks to controversial religious leader Asaram Bapu and his devotees who created a "ruckus" on the flight.  
The self-styled godman Asaram, accused of sexually assaulting a minor, was flown to Delhi from Jodhpur under police custody for medical examination at AIIMS. 
The passengers also accused the airline of operating the flight without proper air-conditioning, making them nauseous and asphyxiated. 
According to a report in the Economic Times, a passenger said that the flight was delayed for nearly two hours because of Asaram but the airline did not make any announcement and only informed the passengers through text messages on their phones.  
"The flight 9W 2552 was to take off at 11:55 am but got delayed by at least two hours. There were no announcements made although we kept getting messages on our phones," a passenger told ET.  
Escorted by a barrage of policemen, Asaram arrived at the airport around 1:30 pm and was followed by 10-15 of his devotees, who had booked tickets solely to accompany him to on the flight to Delhi.  
The mismanagement by the airline meant that there was no queue and passengers started boarding the flight after an airhostess screamed an announcement to board the flight, according to another passenger.  
As the passengers boarded the flight, they found the aircraft with minimal air-conditioning and a promise by the staff that it would be put right soon.  
Fifteen minutes into the flight, the pilot announced that a technical glitch had impacted the in-flight cooling and it was kept "extremely low" throughout the flight, passengers told the daily.  
Airhostesses also did not give mandatory safety instructions.  
Most of Asaram's devotees even refused to take their seats at the time of takeoff and those who did, did not wear seatbelts. 
"Seat belt ki kya zaroorat jab swayam bhagwaan hamare saath hain? (What is the need of a seatbelt when God Himself is travelling with us?)," one of the devotees said when asked to wear seatbelt.  
Throughout the flight, they kept shouting 'Asaram Bapu ki Jai! Sai! Sai!" and multiple requests by cabin crew to make them sit were in vain, one of the passengers said.  
Even on landing, the godman refused to take a queue and insisted to be escorted by his devotees while deplaning.  
As soon as Asaram got out of the airport, a huge crowd ran at him, creating chaos at IGI airport in Delhi.  
The daily quoted a Jet Airways spokesperson saying that the initial delay happened due to a bird strike, and because an alternate aircraft from Delhi was arranged to operate the flight.  
However, she did not respond to e-mails sent by the daily regarding the events inside the flight. 
The Supreme Court had on August 29 allowed Asaram to be taken to AIIMS from Jodhpur jail for medical examination. 
The order had come after a three-member panel of doctors from AIIMS informed the apex court that requisite equipment for evaluation of Asaram's medical condition were not there in Jodhpur jail and he needed to be brought to the institute for proper check up. 
On August 11, the apex court had denied interim bail to Asaram in a rape case and directed AIIMS to set up a medical board to ascertain his health condition before taking up his regular bail plea. 
Asaram was arrested by Jodhpur Police on August 31, 2013 and has been in jail since then. 
A teenage girl had accused him of sexual assault at his ashram in Manai village near Jodhpur. The girl belonging to Shahjahanpur in Uttar Pradesh was a student living in the ashram.