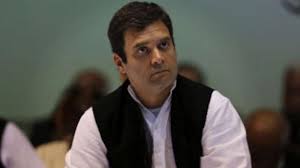 Delayed action by flight crew led to 'near crash' of chartered plane carrying Congress President Rahul Gandhi in April this year, a DGCA report stated on Friday. 
The plane had developed a technical snag on April 26, following which Congress demanded a probe into the "suspicious and faulty performance" of the aircraft before landing at the Hubballi airport in north Karnataka.
The plane suddenly tilted heavily on the left side and the altitude dipped steeply with violent shuddering of the aircraft body at 10.45 am, Gandhi's close aide Kaushal Vidyarthi wrote in a letter to state DGP Neelmani N Raju. 
The letter had said the weather was normal and not windy according to the passengers. 
"It was apparent from the suspicious and faulty performance of the aircraft that the incidents of shuddering and altitude dipping were not natural or weather-related, but were due to some technical snag...," it said.